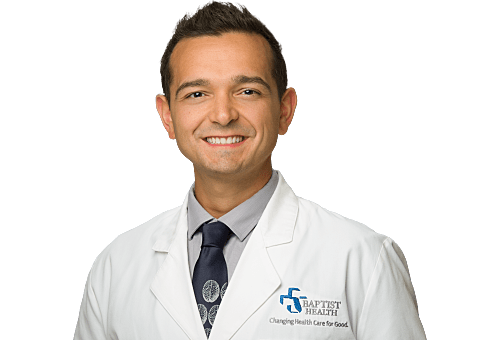 Michael Todinca, MD
Neurologist
Michael Todinca, MD Office and Other Patient Information
Michael Todinca, MD Biography and Info
Dr. Todinca is a fellowship-trained neurologist who specializes in the diagnosis, treatment and management of neuromuscular disorders. His philosophy of care is to carefully listen and consider his patients' concerns in order to accurately assess and examine their issues. Dr. Todinca is an advocate for his patients' health and a firm believer in educating his patients regarding their medical issues. Dr. Todinca performs neuromuscular procedures including electromyography (EMG and Single Fiber EMG) and nerve conduction studies (NCS). His areas of expertise include:
Charcot Marie Tooth Disease
About Me
I am a New York native (Brooklyn) who relocated to the Jacksonville area in the Summer of 2022, after completing my Neuromuscular fellowship training in Rochester, NY. I love the area thus far and am excited to get further acclimated. My mother and brother relocated to the great state of Florida while I was still in training, and I am happy to be able to join them. I enjoy remaining active, attending concerts, trying new foods and traveling. And as a true neurologist, I love solving puzzles and constantly learning as the field of neurology/neuromuscular continues to grow and advance.
Practicing medicine continues to be one of the greatest honors of my life. My philosophy of care is to carefully listen to my patients, as it ensures their concerns are heard and enables me to focus my assessment and examination to most optimally address their concerns. I also am a firm believer in providing education to my patients regarding their medical issues. I believe patient education empowers patients to understand their disease and advocate for themselves. So too, I enjoy learning from my patients which empowers me to be a better physician.
Specialties
Neurology
Neuromuscular Medicine
Languages
Hospital Affiliation
Baptist Medical Center Beaches
Legal Practice Name
Michael Todinca, MD Additional Information
Education & Training
Doctor of Medicine - Medical School

SUNY Downstate College of Medicine - Brooklyn , NY

2013 – 2017

Residency

Stony Brook University Hospital - Stony Brook , NY

2018 – 2021

Fellowship

University of Rochester Medical Center - Rochester , NY

2021 – 2022
Frequently Asked Questions