When a fever is more than just a fever
Wolfson doctors identify – and treat – rare illness in 6-year-old Daytona boy.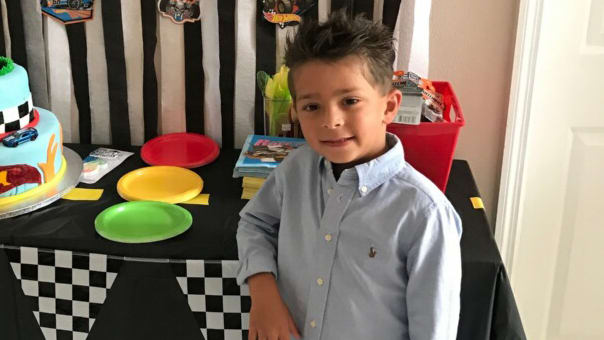 William is your typical 6-year-old boy: rambunctious, full of energy and spirit and always ready to play with his friends and little sister.
So last July, when he started to complain about being tired and opted to rest instead of having a play date, his mom knew that something wasn't right.
Lena Hale kept a close eye on her son all day. He was fever free, but still lethargic, and her instincts told her to take him to the local emergency room. From the time she left the house until she got to the hospital, William's temperature had risen to 104. He was admitted to the hospital that evening and transferred to the pediatric intensive care unit, or PICU, the next day.
William spent five days in the PICU, where his critical care doctors were unsure of what was causing his symptoms. Try as they might, they couldn't get his temperature down. After six days of William's high fever, red eyes and sore neck, his doctors decided to send him to Wolfson Children's Hospital in Jacksonville.
The Kids Kare Mobile intensive care unit transferred William and his mother from Daytona to Wolfson Children's, where a team of pediatric critical care experts in the PICU went straight to work.
"All the teams were waiting for him," his mother recalled. "They did bloodwork, performed an echocardiogram to check his heart and he saw an intensivist, all within 45 minutes."
And then they made their diagnosis: William was suffering from Kawasaki disease, an extremely rare illness that can affect the skin, mouth and lymph nodes. The cause of Kawasaki is unknown and it is hard to diagnose; left untreated, it can lead to potentially fatal heart complications.
"This was an unusual situation, because not only is the disease uncommon, but William's case also presented in a rare way," said Mobeen Rathore, MD, chief of Pediatric Infectious Disease and Immunology at Wolfson Children's. "William was treated with IV doses of gamma globulin to prevent coronary artery disease, and a high dose of aspirin to help relieve his symptoms and lower his fever. He responded well to the treatment and was sent home."
William did return to Wolfson Children's Hospital a second time for another round of treatment when symptoms returned, which is a common occurrence in Kawasaki disease.
Dr. Rathore, who also sees kids at the Wolfson Children's Specialty Care Center in Daytona Beach, has expertise in chronic infections and HIV/AIDS research. That training, he said, allows him and his colleagues to "recognize the symptoms of very rare and potentially fatal conditions like Kawasaki disease. We're able to act quickly and accurately to diagnose our patients."
"I am grateful we ended up at Wolfson," Hale said. "From the doctors to the pediatric nurses, even the cleaning crew—everyone at Wolfson was absolutely wonderful."
And William? He's back to his usual self, attending first grade with all of his friends.
"You wouldn't guess that he was ever sick," she said. "He is back to jumping on the bed, running around the house and getting into the sort of trouble you would expect from a 6 year old."
"Dr. Rathore has actually called me personally to check on William several times since his hospitalization. That is just amazing. I grew up in the medical field—my dad is a doctor—and that kind of follow-up treatment is rare."