Get your flu vax, Jax
How the flu vaccine can help you, your loved ones, and local hospitals.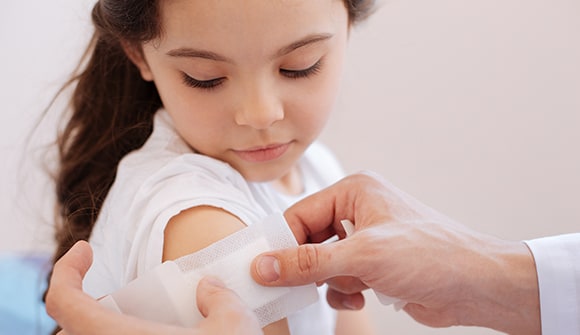 COVID-19 may be at the top of everyone's minds, but even a global pandemic can't stop flu season. Every fall and winter, and sometimes even into spring, the influenza virus is more active than usual, and our doctors start asking us to get our flu shot. This year, it's vital that we listen.
The Duval County Medical Society (DCMS) Foundation — in partnership with local hospitals/health systems, pharmacies, school districts/colleges, grocers and other organizations — are officially launching the #FluVaxJax campaign Sept. 9, 2020, with the goal of increasing the rate of influenza vaccinations on the First Coast. Last year, only 36.9% of residents in the five-county region got their flu shot. This year, Baptist Health and Wolfson Children's Hospital are joining the #FluVaxJax campaign to raise that number.
"We always want to emphasize the importance of flu vaccines to our community," says Elizabeth Ransom, MD, FACS, executive vice president and chief physician executive at Baptist Health. "This year, it's more critical than ever. With COVID in our communities and around the world, we need to limit influenza as much as possible, and the best way to do that is, of course, by vaccination. This partnership is a great opportunity to get the word out."
Mobeen Rathore, MD, chief of Pediatric Infectious Disease and Immunology for Wolfson Children's Hospital and co-director of the Baptist Health Infection Prevention and Control Committee, agrees that flu shots are just one more way we can protect ourselves, our children and each other during the coronavirus pandemic.
"The symptoms of flu and COVID-19 are quite similar, so if you are protected against flu, you will not get those symptoms that will worry you about having COVID. It's enough to have one problem, but you don't want a second," he explained.
Dr. Ransom added that by getting vaccinated, the community can help prevent severe flu cases and the complications that can accompany a flu infection. With hospitals already working to treat COVID-19 patients in their ICUs, flu cases would be an additional burden on much-needed healthcare resources.
"We need to reduce influenza as much as possible because we have a vaccine for that so we can reduce the rate of infection. We don't have a vaccine for COVID yet. It's important to get the flu vaccine for yourself, your loved ones, and those you encounter," she said. "Fall and winter are when we start to see patients coming in with the flu and complications related to the flu. We already have a number of COVID-19 patients in our local hospitals so if we can reduce the burden of flu patients, it'll be a much better scenario for our health systems overall."
In fact, the last time the world experienced a pandemic was in 1918, when one-third of the U.S. population was infected with the flu. Today, those most at risk are children, the elderly and people with underlying medical conditions, such as HIV or lung disease. Even healthy adults, who may only experience the flu mildly, are encouraged to get vaccinated so they don't spread it to others.
The Centers for Disease Control and Prevention (CDC) recommends flu shots for everyone 6 months of age and older, especially children — for them, the flu can sometimes result in pneumonia and death. Dr. Rathore thinks often people opt out of the vaccine, for themselves and their children, either because of busy schedules or bad information.
"I think one unfortunate reason people decline the flu shot is due to misinformation. There's a lot of anti-vaccine propaganda. The second reason is that it's an annual vaccine, and sometimes it's a convenience issue. There are misconceptions that it either isn't safe, it doesn't protect you or it can give you the flu. None of those are true."
"I think there are a lot of reasons for opting out, including just being busy and never getting around to it," Dr. Ransom added. "Also, sometimes people have a little bit of hesitation and are fearful of getting the vaccine. That said, you can't get the flu from the flu vaccine. There have been millions of vaccines administered over the last 50 years, and they're very safe. We want to be sure everyone is aware of the facts."
---
To get your flu shot, make an appointment with a Baptist Primary Care physician or visit any Walgreens pharmacy. To get your child's flu shot, contact his or her pediatrician.