Life after COVID-19
Minister who nearly lost his life is helping doctors learn more about the condition.
Vikki Mioduszewski Published: June 30, 2020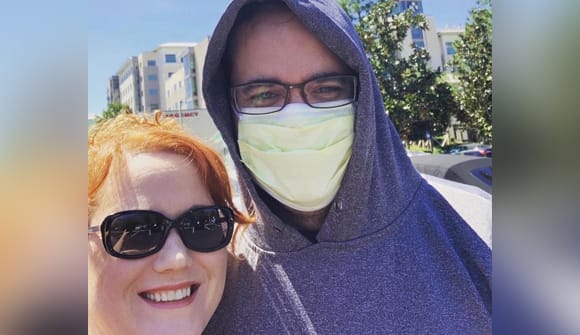 In the early hours of March 26, 2020, Tommy Shapard found himself recording iPhone videos of himself saying his last goodbyes to his wife, Rachel, and his three children: Drew, Kate and Mac.
Shapard had come to the ER at Baptist Medical Center South only the day before, where doctors told him he'd likely need to be put on a ventilator the next morning and wouldn't be able to speak. So, while his family slept at home, Tommy sent them all his love while he still had use of his voice.
The global pandemic seemed like exactly that – global, but not something that could ever happen to you. But when Shapard was diagnosed with COVID-19, things got personal.
Allergies, or something more?
"It started out with sinusitis and allergy-like symptoms I normally get this time of year," Shapard said. "I had a little cough. I have seasonal allergies and asthma so I always anticipate some things like that. In three days, all of that got worse."
On March 25 Shapard had a virtual visit with a nurse practitioner who urged him to head straight to the ER. She called ahead to Baptist Medical Center South to give them advance warning. Mary Zahn, MD, an emergency medicine specialist, was waiting for him. Tamer Hassan, MD, a hospitalist at Baptist South, would become involved in his care soon after.
"The doctors were pretty much going to put me right on the ventilator in ICU," Shapard recalled.
It was late at night and his family was fast asleep, so he began recording videos of himself to send them instead, just in case he didn't make it. Physicians gave him treatments to try to delay the virus's effects. By morning, miraculously, his breathing was better.
"The key was that treatment was started early so he improved significantly," said Dr. Hassan. "On April 1, he was able to be discharged."
The road to recovery
Shapard and his doctors have stayed in close contact, especially during the first six weeks after discharge, when the after-effects of COVID-19 are most severe. Dr. Hassan helped Shapard manage his nausea with real ginger[VAM3] [KM4] to spare his body any more medications, and the two worked on his diet to incorporate more foods high in vitamin C, zinc and probiotics. He also recommended Shapard do breathing exercises and walk 30 minutes to an hour a day as his breathing improved. This was a welcome activity for Shapard, who is a runner.
"I was really sedentary for three weeks. The main issue was anxiety. Is the virus still in me or will it flare back up because there have been reports of some of that?" said Shapard. "My breathing was not quite right, and it's still not quite there, but it's a lot better now. One night I felt super good, and I turned to Rachel and said, 'Hey, I've been walking but I wonder how far I could jog.' I ended up running about a mile and a half and it felt really good."
Healing through helping
An important part of Shapard's emotional recovery was donating his plasma, currently supported by the U.S. Food and Drug Administration (FDA) as a possible treatment for COVID-19 patients.
"I discussed the plasma donation with Tommy and I walked him through the steps to get that done. His plasma already has antibodies that might save other peoples' lives so when they take the plasma from his body, they might save two to three lives with that," explained Dr. Hassan. "If we have mini-surges of COVID-19, having plasma could be very beneficial."
"Once I heard about it, there was no question in my mind; I was going to do it," said Shapard. "As I was giving plasma, the nurse told me my plasma was going to go immediately to a critical patient, and I was in tears just knowing a part of me that helped fight the virus was now going to be part of someone else to fight the virus. That felt redeeming in a way."
Learning together
Today, Shapard is focusing on healing and learning as much about the coronavirus as possible. He speaks with Dr. Hassan and Dr. Zahn often so they can see how COVID-19 affects the body long-term.
"Tommy was a special patient and he is close to my heart," said Dr. Hassan. "Tommy is 44 and he was pretty sick, close to losing his life, but he recovered completely. It's very rewarding to see that. He asked great questions during hospitalization. He reads and researches. We are learning the recovery part of this virus together. No one knows everything about the virus, and what we're trying to do with Tommy is learn."
"I still can't believe I'm alive. It's still surreal to me," Shapard said. "I want to emphasize how incredible the doctors, the nurses, administrators and everybody have been. The care and compassion weren't just medical care; you could tell they were concerned about the human side of it, too. I could tell they were concerned about my care, but also concerned about the virus and studying it, so to see that in action and to see them be very inquisitive about what's happening with me, it's amazing to be a part of that."
At Baptist Health, we want to help keep our community informed about COVID-19. For more information, visit baptistjax.com/covid19 or wolfsonchildrens.com/covid19. For questions about COVID-19 symptoms, call 904.302.5050.
Baptist Health physicians are here for you during this time and can diagnose, treat and prescribe medications virtually. Request an online doctor appointment here.
Close X