Should I wear a mask?
Short answer, YES! Do it for yourself, and for others.
You can't go wrong by grabbing a mask before heading out of your home. With COVID-19 cases on the rise across much of the United States, it's now more important than ever to mask-up.
"Research shows that individuals who are asymptomatic, meaning not displaying symptoms, can still be carriers of COVID-19," explained Elizabeth Ransom, MD, FACS, executive vice president and chief physician executive at Baptist Health. "Because the virus typically spreads through respiratory droplets from coughing, sneezing, or talking, wearing a mask or cloth face covering can help prevent the spread of COVID-19."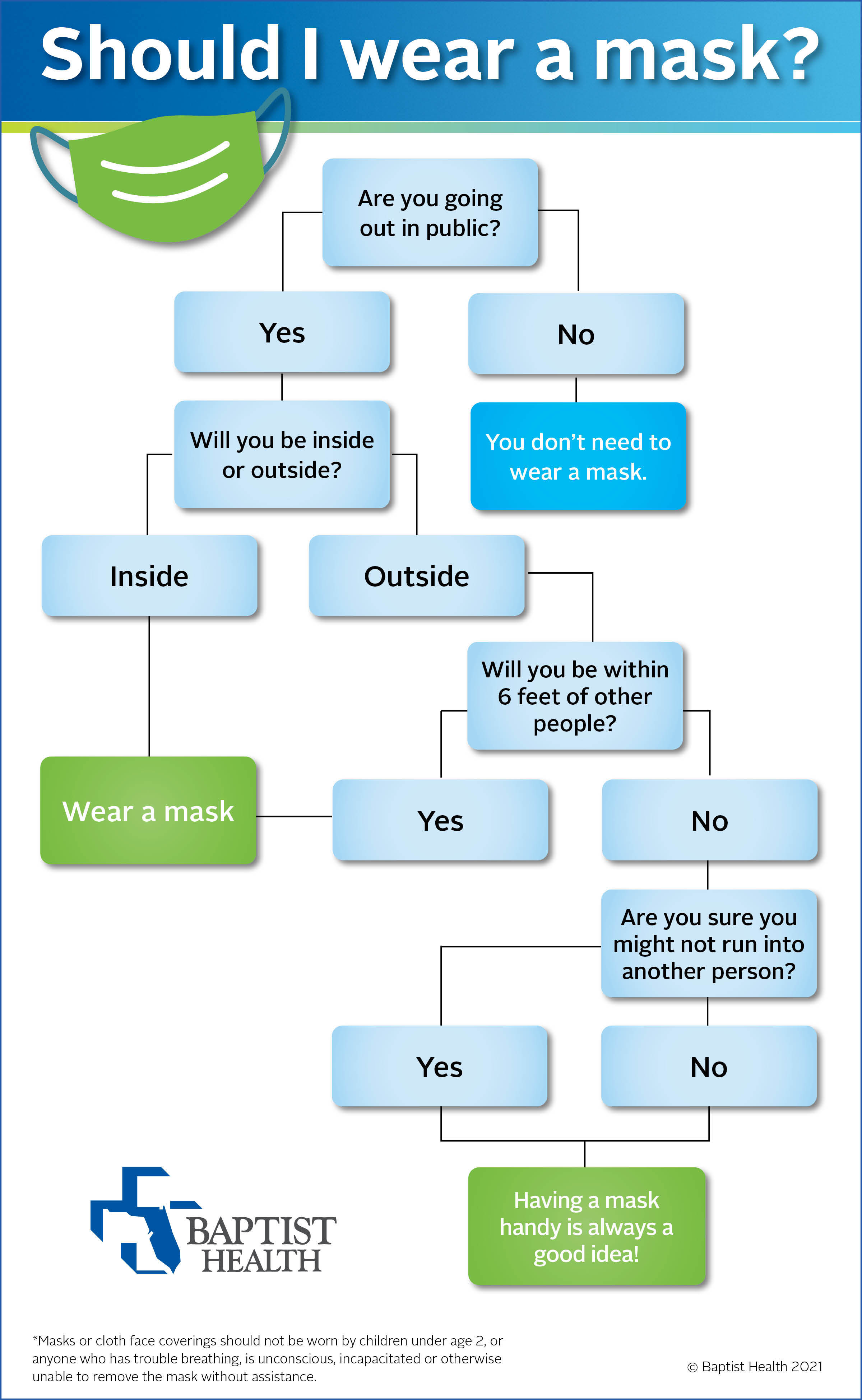 Recent research from the CDC also indicates that masks can filter virus particles to protect the wearer in addition to others. Wearing a mask can cut down on the amount of droplets you inhale, helping reduce how severe your illness is if you are infected with COVID-19.
However, not all masks are created equal. The Centers for Disease Control and Prevention now recommends against wearing masks with exhalation valves or face shields without masks. These two face coverings are also no longer permitted at Baptist Health facilities.
To help keep yourself and others safe, the CDC recommends you wear a mask that snugly covers the nose and mouth with two layers of washable, breathable fabric.
Acceptable masks fitting CDC and Baptist Health guidelines include:
Homemade masks
Surgical or procedural masks
Dust masks
N95 masks without vents
At Baptist Health, we want to help keep our community informed about COVID-19. For more information, visit covid19.baptistjax.com. For questions about COVID-19 symptoms, call 904.302.5050.