Class during COVID
Pediatrician-recommended tips for helping your child adjust this school year.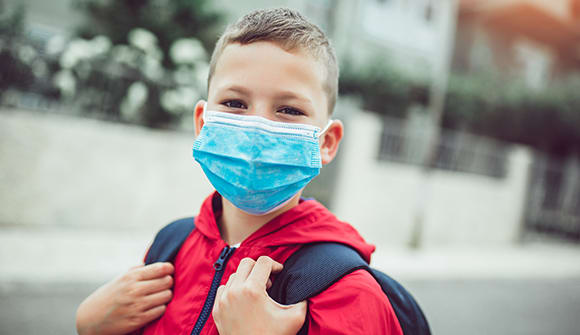 If there's one thing the world has learned from 2020, it's that nothing can upset your normal routines quite like a global pandemic. Work, school and daily life all look different than they did this time last year. For kids of any age, this back-to-school season may help restore some normalcy to their weekly schedule. But how do you establish a school routine when nothing is the same as before?
Bethany Atkins, MD, is a board-certified pediatrician with Baptist Pediatrics and Wolfson Children's Hospital. She says the same ways you would help your child adjust to starting a normal school year still hold up, whether he or she is going to school in person or distance learning.
Scale back bedtimes
During quarantine and over the summer, plenty of parents let their children stay up past their school-year bedtime. Most doctors recommend putting them to bed at their ideal bedtime two weeks before school starts, but if you haven't yet, it's never too late to start.
"Recommended amounts of sleep are 10 or more hours for elementary school children, nine-and-a-half hours for middle schoolers, and nine — yes, nine! — hours for high school students. Try to back their bedtime up by 15 to 30 minutes every two to three days until you are at a reasonable bedtime," Dr. Atkins said. "During their evening bedtime routine, with younger children, talk about things that are new in their way of life. Saying, 'Remember to brush your teeth and wash your hands' normalizes what will be emphasized in school."
Talk about it
Going back to school, in person or online, may feel weird this year. It doesn't hurt to acknowledge that and ask your child how he or she is handling it.
"The American Academy of Pediatrics (AAP) has always recommended discussing what your child thinks or feels about starting school. Now, talk with them about changes they will see very matter-of-factly, as in, 'You will see clear dividers on your desks this year and people will be wearing masks.' Answer any questions with age-appropriate answers like, 'Masks and dividers keep germs from spreading,' for a younger child and a more in-depth discussion with older children about how diseases spread."
Dr. Atkins adds that you can practice COVID-specific skills at home, especially with preschoolers.
"Extra support for them may focus on washing hands, not touching their face or picking their nose, and respecting personal space. Luckily, these are all skills we have been teaching preschoolers forever. Also, add how the child can contribute to his or her health and safety by following any new rules at school. That gives them some power in a discussion about an otherwise scary topic for everyone."
Check yourself first
Deciding whether to send your kiddos back to school or keep them home for virtual learning is tough, and the "right" answer for every family is totally different. Whatever you've chosen for your child, try to remain positive about it when speaking with them so they feel confident, too.
"Understand that children feed on our emotions so try to minimize how much you share your own fears with them as a parent," said Dr. Atkins. "Try not to transfer your adult fears onto them. We all have them but we teach our children resilience by discussing that being afraid is a normal emotion, and talking to them about age-appropriate strategies to deal with that fear."
Dr. Atkins wants parents to know that the majority of children are going to adjust to school just fine, no matter what form it takes for them this year.
"Luckily, children are very resilient and they usually blossom and grow emotionally if they are provided support and comfort during scary times. I encourage parents to reach out to their pediatrician or primary care provider if concerns persist after several weeks in their new school environment."
---
THE PLAYERS Center for Child Health offers age-appropriate lessons that encourage children to develop healthy habits, like handwashing and other routines. For more information, call 904.202.WELL (9355). For more information about COVID-19, visit baptistjax.com/covid-19 or wolfsonchildrens.com/covid19.