Baptist Health Foundation
You can make a difference in our community, now and in the future.
Give Today
Baptist Health Foundation Main Content
As a not-for-profit health care system, philanthropy touches every aspect of Baptist Health and defines us as an organization.
The Baptist Health Foundation supports the programs and services of our health system and hospitals, enabling Baptist Health to provide the highest quality care for our patients and our community.
Baptist Health Foundation Additional Content Section 1
Baptist Health Foundation Additional Content Section 2
Get Involved
Members of our Giving Societies are making a lasting impact on Baptist Health patients for generations to come. Let us help you find the best fit to match your passion and philanthropic intentions.

Supporters raise funds for our hospitals by organizing and participating in events, social gatherings and online campaigns. You can start a fundraiser today, tell us about your event and review our event guidelines.
Baptist Health Foundation Additional Content Section 3
Baptist Health Foundation Additional Content Section 4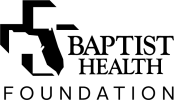 For information on making a gift:
The Baptist Health Foundation is a nonprofit, 501(c)(3) organization - EIN, 59-2487135
 
See our GuideStar profile