Baptist Health CEO and Wolfson Children's Hospital president named to Florida Trend's Florida 500 list
The Florida 500 recognizes the state's most influential business leaders.
In recognition of their impact on health care in Northeast Florida and throughout the state, Brett McClung, FACHE, president and chief executive officer of Baptist Health, and Michael D. Aubin, FACHE, president of Wolfson Children's Hospital and interim head of the Baptist Health Foundation, were named among the Florida 500 – a list of the state's most influential executives in different economic sectors.
McClung and Aubin were selected as honorees in the Life Sciences category from a pool of nearly 3,000 total submissions. Selections for the Florida 500 are organized using broad economic categories from the U.S. Department of Commerce, with the number of selectees in each category roughly proportionate to that category's share of the state's gross domestic product, according to Florida Trend. Categories include:
Agriculture
Arts and entertainment
Education
Energy
Finance and insurance
Hospitality/tourism
Information/tech/media
Law
Life sciences
Living legends

  Manufacturing


Philanthropy/nonprofits
Professional services
Real estate
Retail/wholesale
Transportation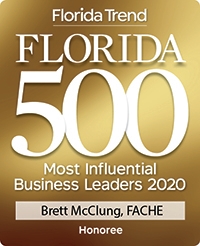 Since becoming president and CEO of Baptist Health on July 1, 2019, McClung has led the health system through notable accomplishments including top rankings from U.S. News & World Report; national recognition from the Human Rights Campaign Foundation for continued commitment to LGBT+-inclusive health care; straight As from the Leapfrog Group for the highest quality and safety rankings; inclusion on Becker's Top 100 Great Hospitals list; the highest honor for Stroke Gold Plus hospitals for comprehensive stroke care; and the development of the health system's innovative 5-point strategy.
Prior to joining Baptist Health, McClung served for more than 26 years at Texas Health Resources, one of the largest faith-based, nonprofit health care systems in the United States. During his tenure at THR, McClung led transformational efforts, accelerated the adoption of best practices and achieved top rankings in patient safety and satisfaction, employee partnership and physician alignment.
McClung has always been involved in numerous community and health care industry organizations and serves on the Jacksonville Civic Council and as faculty/moderator for the American College of Healthcare Executives (2017 Regent's Award). He is also recognized as a Wharton Fellow with the Wharton School at the University of Pennsylvania and a Marshall Memorial Leadership Fellow with the German Marshall Fund of the United States. Originally from South Texas, McClung earned a Bachelor of Arts in Business from Southwestern University and a Master of Science in Healthcare Administration from Trinity University.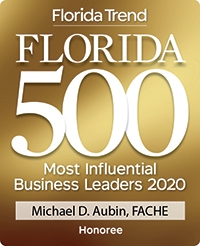 Aubin has served as hospital president of Wolfson Children's Hospital of Jacksonville and senior vice president of Baptist Health since 2011. He previously served as the founding administrator/chief operating officer of St. Joseph's Children's Hospital of Tampa, which he helped to re-establish in 1990 after a 23-year hiatus.
Prior to his role at St. Joseph's/BayCare, Aubin served as founding Associate Administrator of the H. Lee Moffitt Cancer Center and Research Institute in Tampa. Aubin's early career included serving as a consultant with M. Bostin Associates in New York City and various roles with Milwaukee Children's Hospital in Wisconsin.
A longtime child advocate, Aubin has served as Board President for the Florida Association of Children's Hospitals (FACH) and is a member of its Board of Directors. He currently serves on the national Children's Hospital Association's (CHA) Board of Trustees, and is co-chair of CHA's Public Policy Committee. Aubin is also a Fellow in the American College of Healthcare Executives.