Marcus Brown
,

MDiv, BCC
Lead Chaplain
Marcus Brown Biography and Information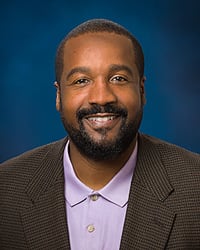 Born and raised in Atlanta, GA, Marcus earned a Bachelor of Arts in English and History from the University of North Florida and a Master of Divinity from Gordon Conwell Theological Seminary in Jacksonville, Florida.
Marcus is ordained as a minister in the COCIG (Church of God in Christ) and holds ecclesiastical endorsement by the Evangelical Church Alliance. After having ministered in the Church of God in Christ from 2008-2014, Marcus began the residency program at Baptist Health. He served as a Resident Chaplain at Baptist Downtown from August of 2014 through August of 2015. Following residency, he was named the Neurology Chaplain and later the cardiology chaplain.
A member of Kingdom Minded Association of Churches (KMAC), Marcus, serves his community in clothing drives and food giveaway opportunities throughout the year. Marcus coordinates and works with the homeless ministry in this organization.
Marcus is board certified through the Association of Professional Chaplains (APC) and a bereavement facilitator through Resolve Through Sharing (RTS). Marcus also serves as a facilitator for Spirit of Care Giving at Baptist Medical Center.
Marcus and his wife, Shawnee, live in the Jacksonville, FL. They are the parents of 4 daughters: Teshayla, Mikayla, Areana, and Aniya.