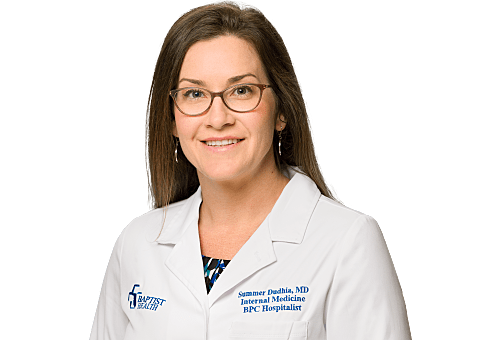 Summer Dudhia, MD
Internist
Summer Dudhia, MD Office and Other Patient Information
Summer Dudhia, MD Biography and Info
Dr. Dudhia is a dedicated hospitalist at Baptist Health and a native Floridian. She was raised amidst the natural wonders of this beautiful state and developed a deep appreciation for the outdoors, whether on a boat, fishing on sandy beaches, running outdoors or basking in the sun. Driven by a relentless work ethic, she has always approached every aspect of my life with unwavering dedication. This commitment led Dr. Dudhia to pursue a career in medicine, fueling her passion to make a positive impact on the lives of others. Throughout the entire journey, she was driven by the desire to help those in need and provide compassionate care. As a hospitalist. Dr. Dudhia embraces the challenges and rewards of caring for patients during their most vulnerable moments. Her dedication to healing goes beyond physical ailments, as she strives to provide holistic care that encompasses emotional support and fosters trust between patients and their healthcare team.
About Me
Beyond the walls of the hospital, I find solace and joy in my greatest blessings-my loving family. I am blessed with three incredible young boys who bring laughter, adventure, and boundless love into my life. As a mother and wife, I understand the delicate art of balancing my professional aspirations with the needs of my family. It is through their unwavering support and the bonds we share that I find strength, inspiration, and the motivation to excel in all facets of my life.
Whether it's the demanding nature of work or the joyous chaos of raising three boys, I have learned the value of resilience and the importance of self-care. I find rejuvenation in the moments I spend outdoors with my family-exploring nature, creating lasting memories, and appreciating the beauty of the world around us.
As a hospitalist at Baptist Health, I am honored to serve my community and bring comfort to those in need. Together, let us embrace the joy of healing, the wonders of nature, and the love that binds us all.
Specialties
Role
Boards
American Board of Internal Medicine (Internal Medicine)
Languages
Hospital Affiliation
Baptist Medical Center South
Baptist Medical Center Jacksonville
Legal Practice Name
Summer Dudhia, MD Additional Information
Education & Training
Doctor of Medicine - ECGMG

ECFMG (Educational Commission for Foreign Medical Graduates) - Jacksonville , FL

2013

Doctor of Medicine - Medical School

Ross University School of Medicine - Dominica

2010 – 2012

Residency

Nassua University Medical Center - East Meadow , NY

2013 – 2016
Frequently Asked Questions