MRI - Baptist Outpatient Center
MRI - Baptist Outpatient Center Main Content Section
If your need an MRI (magnetic resonance imaging), Baptist Health offers many convenient locations throughout the Jacksonville area.
What's an MRI?
An MRI uses powerful magnetic fields and radio frequency to capture highly detailed images. It's non-invasive and painless.
Open MRI
Not all open MRIs are the same. Baptist Health has several open-design scanning options with more space that can help reduce claustrophobia and anxiety, including one of the only true high-field open MRIs in the region.
Evening & Weekend Appointments
Flexible evening and weekend hours with same and next-day appointments are often available.
Our Locations
MRI - Baptist Outpatient Center
1235 San Marco Boulevard
Baptist Outpatient Center
Jacksonville, FL 32207
Having an MRI scan can be a pleasant experience! Our open MRI scanner is comfortable, spacious, quiet, and fast. It is particularly patient-friendly for patients who may have felt confined by the traditional MRI design.
Services
1.5T High-Field MRI Scanner
Wide-bore design for more space and comfort
Board-certified radiologists read your scan
Hours
Monday 6:00 AM - 10:00 PM
Tuesday 6:00 AM - 10:00 PM
Wednesday 6:00 AM - 10:00 PM
Thursday 6:00 AM - 10:00 PM
Friday 6:00 AM - 10:00 PM
Saturday 7:00 AM - 7:00 PM
Imaging Appointments
Call us to schedule, or you can request an appointment online and a scheduler will call you.
Request an Appointment
American College of Radiology Certified
All Baptist Health MRIs are certified by the American College of Radiology.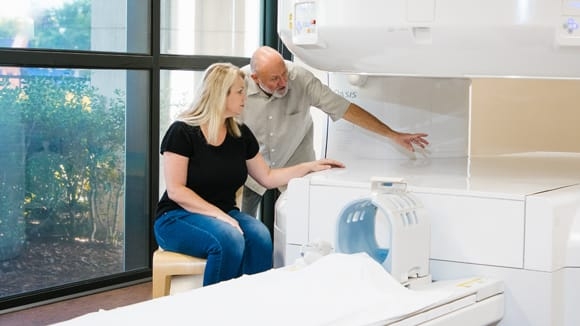 One size does not fit all
Magazine exec with fear of tight spaces finds success with true open MRI.
Read Story