Meet your wellness coach!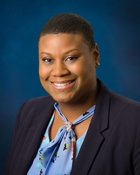 Carol Thomas is a Baptist Health RN Wellness Coach at the Northside Y Healthy Living Center inside the Johnson Family YMCA. Carol received her Bachelor's degree in Nursing from Florida State College at Jacksonville and Gerontology from the University of South Florida. She also maintains a certification in Gerontological nursing. Carol has previously worked in long-term care, corporate and community health. She has a special interest in holistic wellbeing and looks forward to working with you on your wellness goals!
Stop by today or call the center at 904.202.5434.