Founding partner of the Jacksonville Orthopaedic Institute and first Jacksonville Jaguars team physician announces retirement
After forty years of practice, R. Stephen Lucie, MD, bids farewell to Baptist Health.
R. Stephen Lucie, MD, a founding partner of the Jacksonville Orthopaedic Institute (JOI) and the inaugural team physician for the Jacksonville Jaguars, announced his retirement after forty years of practice in sports medicine and orthopedic surgery. Dr. Lucie moved to Jacksonville in 1981, and jumped right into the sports medicine scene, becoming the team physician for the Jacksonville Bulls, Jacksonville Tea Men, the University of North Florida, Jacksonville University, The Bolles School and several local high schools.
"It has been a wonderful career and extremely gratifying," Dr. Lucie said. "Returning all of the injured athletes back to their various sports could not be more fun. However, getting my weekend warriors and other hurt patients, both young and old, back to their level of function and mobility, is one of the most rewarding things I have ever done."
In 1994 Dr. Lucie, along with four other orthopedic surgeons, founded Jacksonville Orthopaedic Institute, affiliated with Baptist Health. The practice now includes 34 physicians and 12 rehabilitation centers, and employs over 400 people.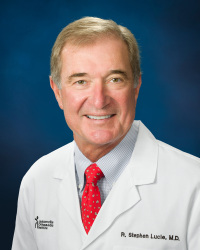 When the NFL expanded new franchises in 1995, the Jacksonville Jaguars selected Dr. Lucie as their first team physician. His leadership was instrumental in developing the sports medicine program, building top-tier staff and beginning an enduring legacy for JOI, which has, for over 25 years, provided team physicians for the Jaguars.
Dr. Lucie's leading role in creating innovative surgical procedures at JOI led to the institute pioneering a minimally-invasive technique for partial knee resurfacing, called MAKOplasty. JOI surgeons have performed more of these surgical procedures than any other provider in the region, and Dr. Lucie performed nearly one-fifth of JOI's 966 MAKO procedures.
Dr. Lucie also helped found the Jacksonville Sport Medicine program, a nationally renowned high school athletics program, which has since become a model for the rest of the country. He has served in many leadership positions in organized medicine including as president of the Duval County Medical Society, president of the Florida Alliance of Sports Medicine Physicians, and president of the Jacksonville Sports Medicine Program. He has served as both chairman and vice-chairman of the Jacksonville Orthopaedic Institute.
Dr. Lucie continues to maintain leadership positions both nationally and statewide in orthopedics and is the current president of the Florida Orthopaedic Society. He also serves on the Board of Counselors for the American Academy of Orthopaedic Surgeons and the Board of Delegates for the American Orthopaedic Society for Sports Medicine.
While he will certainly miss his busy and productive career in orthopedics and sports medicine, he believes it is time to concentrate on his many hobbies and family events to come in the future. He has two sons, one in Atlanta and one here in Jacksonville, as well as five grandchildren who he enjoys spending time with. He will also finally give his wonderful wife of 46 years the attention that she deserves; she has calmly stood by the side of her husband, who was always busy being "Jacksonville's Doc."
Dr. Lucie will be transferring the care of his many patients to the other, well-qualified, board-certified and caring physicians of the Jacksonville Orthopaedic Institute. With five locations across Northeast Florida, the practice has continued to grow and recruit top talent to service the community.
Dr. Lucie thanks all of his patients for the confidence they placed in him over the years and looks forward to seeing his patients out in the community, at the beach or "somewhere we are all having fun."
The JOI community offers its sincere thanks to Dr. Lucie for his years of mentorship, service and inspiration for physicians and students who entered the health care field.
To request an appointment with one of 34 orthopedic specialist physicians, visit Jacksonville Orthopaedic Institute or call 904.JOI.2000.