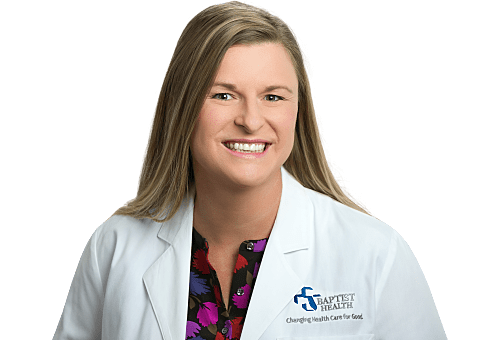 Kristina Butler, APRN
Advanced Practice Registered Nurse
Kristina Butler, APRN Office and Other Patient Information
Kristina Butler, APRN Biography and Info
Kristina Ashley Pound Butler, DNP, CP-PNP, first started her nursing career with over 4 years of experience in the Neonatal and Pediatric ICUs. She then spent over a decade as a bedside nurse at Baptist Beach Labor & Delivery. Ashley specializes in newborn care with extensive experience with breastfeeding, troubleshooting and strategizing; her goal is to ultimately have a healthy and happy mother and newborn which requires an individualized plan of care and support. Additionally, as a former Division I college athlete, Ashley is passionate about getting kids involved in sports, advocating that sports have countless mental, physical and social health benefits that instill principles and develop healthy habits that will bolster their chances of success when entering adulthood.
School and Sports Physicals
Wellness and Preventative Health
About Me
Jacksonville is my hometown, as I am a native of Neptune Beach, FL, and the mother of two incredible, spunky daughters. I love Jesus and seek daily to cultivate a deeper relationship with the Lord. I am enthusiastic about fastpitch softball and love to help coach my daughters' softball/tee-ball teams! We enjoy the outdoors and nature, especially the beach and mountains.
It is important to me that I approach every child/family as an individual with consideration for physical, mental, social, spiritual and environmental variables that should influence the patient's individualized plan of care to achieve daily optimal quality of life
Specialties
Pediatrics
Advanced Practice Registered Nurse
Boards
Pediatric Nursing Certification Board
Languages
Legal Practice Name
Kristina Butler, APRN Additional Information
Education & Training
Bachelors of Science in Nursing - Undergraduate

University of South Florida

2005 – 2007

Doctor of Nursing Practice - Post Graduate

University of Florida - Gainsville , FL

2016 – 2019