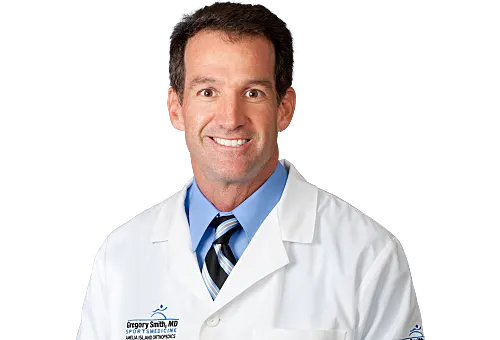 Gregory Smith, MD
Orthopedic Surgeon
Gregory Smith, MD Office and Other Patient Information
Gregory Smith, MD Biography and Info
Dr. Smith is from Greensboro, NC and is a graduate of the University of North Carolina at Chapel Hill. He then earned his medical degree from Wake Forest University. Dr. Smith has been on staff at Baptist Medical Center Nassau since 1997 and has been selected as the Chief of Surgery of Baptist Nassau. His areas of expertise include:
NEW: Online doctor visits
Pediatric Injuries and Fractures
About Me
Since 1997 when I moved to Amelia Island I have combined my love of sports and medicine in my orthopedic surgery and sports medicine practice in Fernandina. My wife and I have two children. My daughter graduated from Fernandina Beach High and is a proud Florida Gator, and my son hopes to someday follow in my footsteps and become a physician as well. I am is an avid sports enthusiast and takes an interest in golf, basketball, and weight training and serves as the assistant basketball coach for the junior varsity team of Fernandina Beach High School.
My training not only with the University of Florida but also, the Mayo Clinic and the Nemours Children's Clinic and Wolfson's Children's Hospital gives me a wide range of experience to treat patients of all ages. Through my involvement in youth sports, I feel that I can help stress to young athletes the importance of taking care of their bodies, as well as ways to avoid injury. In addition to the young athlete, I also thoroughly understand the weekend warrior mentality and their drive to return to the field of play. I also take a very personal approach to my management of patient care and strive to provide the highest level of orthopedic care possible. All treatment options, including surgical and non-surgical, along with management to avoid problems in the future are discussed. Given my commitment to physical fitness, I am also able to speak with patients firsthand about the benefits of proper diet and exercise. I have years of experience in fracture care, shoulder arthroscopy, rotator cuff and other shoulder related injuries, as well knee arthroscopy and ligament reconstructions. In addition to sports medicine related injuries, I also provide the highest quality of care for the shoulder, elbow, wrist and hand, as well as the hip, knee, ankle and foot.
I have served as the team physician for Fernandina Beach, Yulee, Hilliard, West Nassau, Charlton County and Camden County High Schools. I have been a volunteer coach for many youth sports through the YMCA and am a physician member for USA Amateur Boxing. I have also served as the chief of surgery for Baptist Medical Center Nassau, as well as being a member of the Board of Directors for Baptist Nassau. I was honored when I was asked to become the anchor member of the Jacksonville Orthopaedic Institute at Nassau and has been instrumental in expanding orthopedic surgery within Nassau County.
Specialties
Boards
American Board of Orthopaedic Surgery (Orthopaedic Surgery)
Languages
Hospital Affiliation
Baptist Medical Center Nassau
Legal Practice Name
Jacksonville Orthopaedic Institute, Inc.
Ages Treated
Infant
Toddler
Adolescent
Teen
Adult
Senior
Gregory Smith, MD Additional Information
Education & Training
Bachelor of Science - University

University of North Carolina at Chapel Hill - Chapel Hill , NC

1983 – 1987

Doctor of Medicine - Medical School

Wake Forest School of Medicine - Winston-Salem , NC

1987 – 1991

Internship

University of FL HSC School of Medicine Jacksonville - Jacksonville , FL

1991 – 1992

Residency

University of FL HSC School of Medicine Jacksonville - Jacksonville , FL

1992 – 1995

Fellowship

Knoxville Orthopaedic Clinic - Knoxville , TN

1996 – 1997
Frequently Asked Questions