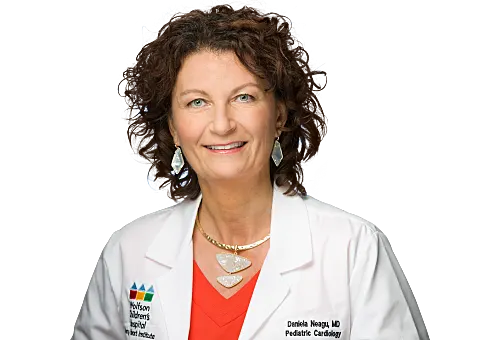 Daniela Neagu, MD
Pediatric Cardiologist
Daniela Neagu, MD Office and Other Patient Information
Daniela Neagu, MD Biography and Info
Daniela Neagu, MD graduated from the University of Medicine and Pharmacy in Bucharest, Romania in 1998 as a Doctor of General Medicine. She completed pediatric residency and cardiology fellowship thereafter. She is an open-minded, focused and dedicated pediatric cardiologist who serves the local community. Dr. Neagu's area of expertise include bench research, fetal and general cardiology. Her passion is teaching and promoting overall good health. A balanced life will make the heart happy!
About Me
Taking care of kids with heart disease is not an easy task, but I am a dedicated physician and always ready to bring my expertise and support families when they are in need. I love to listen, connect and build relationships with children and families so the path that they have to take will be less stressful. I also love to give to the community by educating children about prevention of heart disease and by volunteering at a local medical summer camp for children with congenital heart disease.
Titles
Specialties
Pediatric Cardiology
Pediatrics
Boards
American Board of Pediatrics (Pediatrics)
American Board of Pediatrics (Pediatric Cardiology)
Languages
Hospital Affiliation
Baptist Medical Center Jacksonville
Baptist Medical Center South
Wolfson Children's Hospital
Legal Practice Name
Baptist Specialty Physicians, Inc.
Daniela Neagu, MD Additional Information
Education & Training
Bachelor of Arts - University

Rutgers University - New Brunswick , NJ

1988 – 1991

Doctor of Medicine - Medical School

Carol Davila University of Medicine and Pharmacy - Bucharest

1991 – 1998

Residency

Newark Beth Israel Medical Center - Newark , NJ

2001 – 2004

Fellowship

University of Miami /Jackson Memorial - Miami , FL

2005 – 2008
Frequently Asked Questions