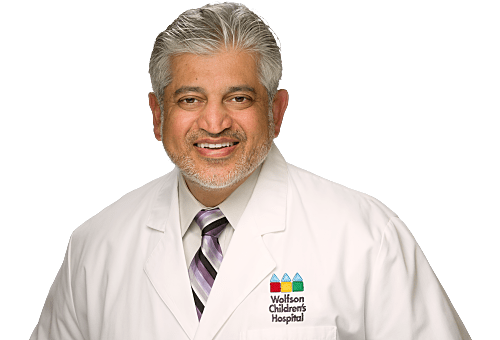 Muhammad Mumtaz, MD
Pediatric Thoracic and Cardiac Surgeon
Muhammad Mumtaz, MD Office and Other Patient Information
Muhammad Mumtaz, MD Biography and Info
M. 'Ali' Mumtaz, MD is a board-certified congenital heart surgeon. At age five he fell in love with babies at the birth of his brother. In 2001, he took this love of babies to a new career height when he joined Dr. Roger Mee, a pioneer of modern congenital cardiac surgery at Cleveland Clinic. Since then, he has worked as a clinical leader at East Virginia Medical School, Baylor College of Medicine and Tahir Heart Institute in Pakistan, before joining the Wolfson Children's Hospital team. His areas of interest include international cardiac surgery and neonatal cardiac surgery.
Pediatric Thoracic and Cardiac Surgeon
Congenital Cardiac Surgeon
About Me
I have been a heart surgeon for over two decades and absolutely love sunny Florida. My wife and I are 'empty nesters' and spend our time between work and visiting our three children who are spread all over the globe. I am originally from Pakistan so I often visit the Tahir Heart Institute a charitable foundation hospital in central Punjab, Pakistan, where I do congenital Cardiac Surgery on a regular basis.
I always felt that as a surgeon, one rides on the parents' trust. Some of my most difficult cases have turned into joyful successes, thanks to the prayers, trust and relationship with the parents. It is this mutual trust and respect that makes my job so gratifying. I have encouraged parents to this partnership, educating them in the pathology and the care of our 'mutual' child
Titles
Pediatric Cardiothoracic Surgeon
Specialties
Pediatric Thoracic & Cardiac Surgery
General Surgery
Congenital Cardiac Surgery
Thoracic Surgery
Boards
American Board of Thoracic Surgery (Congenital Cardiac Surgery)
American Board of Surgery (Surgery)
American Board of Thoracic Surgery (Thoracic and Cardiac Surgery)
Languages
Hospital Affiliation
Baptist Medical Center Jacksonville
Wolfson Children's Hospital
Legal Practice Name
Baptist Specialty Physicians, Inc.
Muhammad Mumtaz, MD Additional Information
Education & Training
Doctor of Medicine - Medical School

King Edward Medical University - Lahore

1984 – 1989

Residency

University of Connecticut Health Center - Farmington , CT

1991 – 1993

Residency

University of Connecticut Health Center - Farmington , CT

1993 – 1998

Fellowship

St. Luke's Hospital Mid America Heart Institute - Kansas City , MO

1998 – 2000
Frequently Asked Questions