From broken lives to beautiful smiles
Thousands of children born with cleft lips need surgery. A Baptist South nurse is doing something about it.
Beth Stambaugh Published: 3/29/2018
Traveling to impoverished villages to help children isn't on everyone's bucket list. But Victoria Leal, a registered nurse in the PCU/ICU at Baptist South, can think of no better way to spend her time.
Since 2011, Victoria has been to 13 countries with Operation Smile, transforming the faces of more than 2,000 babies born with cleft palates or cleft lips.
Worldwide, a child is born every three minutes with a cleft palate or cleft lip -- a birth defect causing a gap in the upper lip and roof of the mouth that doesn't close during the early stages of pregnancy. It can be caused by genetics, poor pre-natal nutrition or exposure to harmful environmental substances.
A cleft can be repaired in a 45-minute to 1 ½-hour surgery. In the U.S., this procedure is common, but people in developing countries don't have the resources or health care system in place for this life-changing surgery.
Operation Smile, along with volunteers like Victoria, is helping reverse that trend.
Hope for a normal life
Babies born with cleft palates or cleft lips in small, impoverished villages often have no hope for a normal life. They become isolated, bullied, are typically severely underweight, and can't speak well.
Some families feel such shame about having a baby with a cleft lip or a cleft palate; they give the child away to a sympathetic relative or to an orphanage and abandon them. Operation Smile provides the medical staff, funds and resources to make the free corrective surgeries possible. Families will walk miles when they hear that Operation Smile will be visiting, Victoria said. "We are the hope for these people."
The organization has been providing cleft lip and cleft palate surgery for children in need since 1982 by sending medical mission teams to places where there is no access to quality surgical care.
Victoria learned about Operation Smile when she was teaching a community Spanish class. A nurse in the class wanted to learn Spanish so she could go on an Operation Smile mission trip.
"She told me that I should go too since I was already bilingual, but I told her I didn't have any experience with babies," said Victoria, who emigrated from Colombia in 2000. But she decided to apply anyway and left on her first mission trip to the Nicaragua just weeks later. She was hooked.
Victoria helps with pre-operative evaluations and post-operative care. "During the first day of the trip, we screen hundreds of babies to see if they are healthy enough for the surgery," she explained.
The team continues to monitor children who aren't ready and gives their mothers nutritional guidance and healthy food in hopes they will be strong enough when the next mission group arrives.
The malnutrition is due to the opening in the roof of the mouth, which makes feeding extremely difficult. "I once evaluated a 1-year-old who couldn't even walk yet," said Victoria.
The team has 60 to 70 clinicians, including nurses, physicians, plastic surgeons, dentists, anesthesiologists, pediatricians, OR technicians and a psychologist to help explain the procedure to the parents. Volunteers are from all over the world and speak different languages, but strict protocols make everything run smoothly.
"It's like an orchestra," said Victoria "We all know our part."
12-hour days
Upon arriving in a village, the Operation Smile team carries all the necessary equipment to the hospital to set up their make-shift OR. They perform 25 surgeries a day on average on five operating tables. During a recent week-long trip, 125 children had the surgery, Victoria said.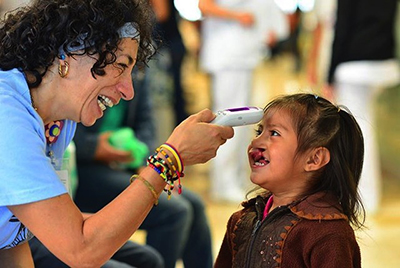 The conditions are rough in the old government hospitals where the surgeries are performed. Resources are sparse and sometimes there isn't even air conditioning.
"In some places, we don't even have poles to hang the IV bags on," said Victoria. "Most of the time, the moms and babies are on mattresses on the floor during recovery. In Vietnam, we had two mothers and two babies each in a single bed. But they don't care about being uncomfortable. They are just grateful to have the surgery."
Like her shift at Baptist South, she works 7 pm to 7 am, but with no breaks. She works five 12-hour days straight, caring for 25 babies each night.
Not all are babies. Some are adults who have suffered with the condition their entire lives. On one of her trips, In Peru, doctors performed the surgery on a 57-year old man and a 52-year-old woman. Both cried when they saw their new reflection in the mirror.
"The moms cry too when they see their babies after surgery," said Victoria. "Many times they don't even recognize their own child."
As Victoria scrolls through her phone, showing off pictures of one beautiful baby after another, she beams with joy and then gets choked up.
"People sometimes ask me why I volunteer. They wonder why I would use all my paid time off to travel to these types of places for no pay," said Victoria. "I do it for my babies. I love my babies. Each one is special."
Victoria recognizes that her level of dedication isn't for everyone, but says that anyone can do something to help other people. "Finding a way to use your skills outside of work can make a huge difference in the world."
Close X