From patient to caregiver
A DONNA runner's journey from breast cancer patient to oncology nurse.
Carolyn Tillo Published: February 07, 2020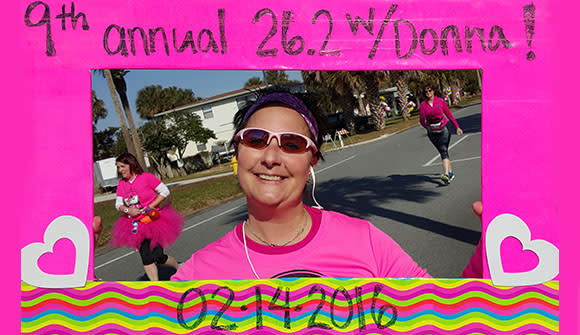 During this year's DONNA marathon weekend, you may have seen some streakers.
We hope you didn't call the cops. It's not what you think.
Streakers are those who have participated in one of the DONNA races every year since its founding in 2008. Jennifer Morton, RN, an adult oncology inpatient nurse at Baptist Health, is one of them.
She has done the DONNA Half since 2008. The cause of fighting breast cancer hits close to home.
In July 2006, when Morton was 35, she found a lump on her right breast. Her daughter was 3 and her son was 6. She was scared of what the future held, but having young kids to care for also served as her motivation.
"My family and kids were always there for me, and I knew that's who I was fighting for," she said.
She has no pictures from that time in her life. Her treatment, which included surgery, chemotherapy, and radiation, left her nauseous, tired and run-down.
Even as she battled these side effects, she didn't want to miss the opportunity to participate in the DONNA festivities. It was her chance to feel surrounded and supported by a community of fighters and survivors, many of whom were battling or had battled breast cancer. She signed up for the half marathon in 2008, and she has been there every year since.
"I had no idea how strong I could be until I had to be," Morton said.
Now, Morton is paying it forward. As an adult oncology nurse in the head and neck cancer inpatient clinic for Baptist Health, she can comfort her patients, using her own experience as a guide. She tells them it's okay to embrace the rollercoaster of emotions they are feeling, and it's important to celebrate the little milestones they experience along the way.
"They know that when I say I understand what they're going through, it's true," she said.
Morton worked as a school nurse for eight years before pursuing a joint LPN and RN degree program, inspired in part by a student at the school who was diagnosed with leukemia.
She visited him in the hospital and organized a fundraiser for his family and, as she spent time at his bedside at Wolfson Children's Hospital, she realized she wanted to focus her career on pediatric oncology patients. Morton hopes to eventually work with pediatric oncology patients again and is eager to apply the lessons she is learning as an adult oncology nurse.
For now, though, she is excited about the latest DONNA weekend.
It's a challenging race that symbolizes her own cancer journey, and it's a reminder that, whether she's battling cancer or advocating for her patients, she was, and always will be, a fighter.
If you or a loved one needs a cancer specialist, please call 904.202.7300 or visit BaptistMDAnderson.com.
Close X