Embrace your inner artist
Doing arts and crafts is good for your health.
Carolyn Tillo Published: June 29, 2020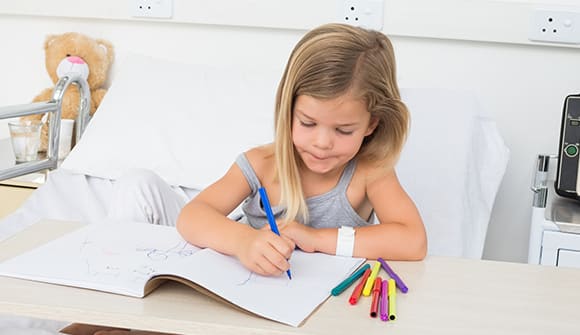 From painting and coloring to sketching and sidewalk-chalk drawing, the extra time at home recently has unleashed the creative sides of many.
It makes sense that people would turn to art, especially when quarantined. Creating art offers a chance to produce something beautiful while calming the mind.
Patty Magee, MA, RN-BC, Caring Arts Program founder and Arts in Medicine coordinator for Baptist MD Anderson Cancer Center, has observed firsthand the healing power of art in the cancer patients she works with every week.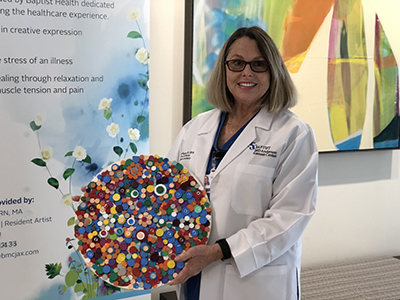 "Creativity helps to open the door into their soul," she said. "It allows them to say 'This is how I'm feeling right now. This is who I am.'"
A review of the connection between art, healing and public health published by the National Institutes of Health notes numerous benefits for cancer patients who engage in the visual arts, including reduced stress and negative emotions and increased focus on positive life experiences.
How can you embrace the arts to keep yourself calm? Magee has some tips.
Choose a subject you love, and let that be your inspiration. Magee works with patients undergoing chemotherapy to liven up their infusion poles. A scuba diver turned his into a diving flag using red paper with a white diagonal stripe.
Carve out a studio in your home. If you have a designated place where you go to create, you'll be more committed. It makes your art feel more special and restorative.
Carry a sketchbook with you. This is a good way to be ready when inspiration strikes.
Repurpose unused items in your home and use them to create art. This is a great project to do with your kids, too. Find something that you were planning to recycle, and think of a way to turn it into an art project.
Find a group of people interested in the same type of artwork as you. Maybe you love to knit, and you can't meet with your knitting circle in person right now. Set up a Zoom meeting to discuss your latest projects and share tips. That's what Magee has been doing while the arts program is temporarily suspended.
Normally, she sets up an art table in the lobby of Baptist MD Anderson every Wednesday and Thursday, coming up with themes for the art each month. For example, in February, during American Heart Month, patients made gratitude cards to say thank you to their caregivers or to anyone who has helped them along their cancer journey.
Patients also paint rocks with inspirational messages such as "Hope" or "Just Keep Swimming" that Magee places throughout the Cancer Center's garden. If a patient likes the message on a particular rock, they can have it. One patient who was going through breast cancer treatment picked up a rock that said "Believe" and held it in her pocket for two weeks. She said it empowered her to keep fighting.
"Art helps these patients feel alive and whole," Magee said. "It shows them they are not just another medical record number."
For more information about the support services available at Baptist MD Anderson, please baptistmdanderson.com.
Close X