How do I make a face mask?
The CDC offers some no-sew methods.
The CDC recently recommended wearing cloth face masks in public settings where other social distancing measures are difficult to maintain, including grocery stores and pharmacies.
But how can you make your own?
Check out the tips for no-sew mask options below.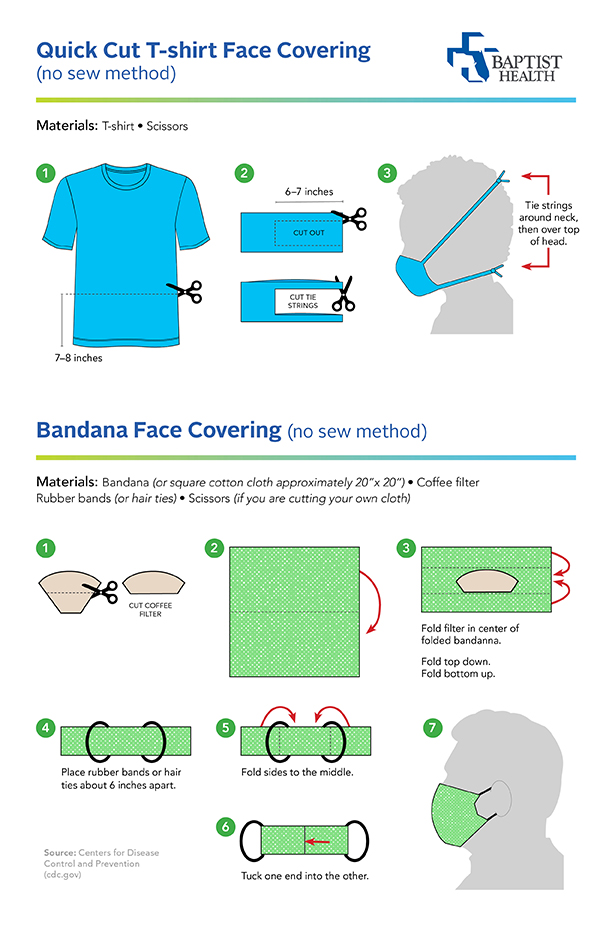 If you're wondering whether making a mask is necessary, the answer is a resounding yes!
"As a member of our community, everything you can do to deter the spread of COVID-19 makes a difference," said Dawn Smith, DNP, RN, system director of Infection Prevention for Baptist Health. "YOU can prevent your loved ones and other members of our community from becoming ill by making masks, as they are in such short supply. Anyone could be carrying this virus unawares, so covering your mouth and nose along with social distancing is essential to stopping the spread."
---
At Baptist Health, we want to help keep our community informed about COVID-19. For more information, visit baptistjax.com/covid19.
Baptist Health physicians are here for you during this time and can diagnose, treat and prescribe medications virtually. Request an online doctor appointment here.