Every mind matters
Pandemic takes a toll on mental health of LGBTQ+ youth.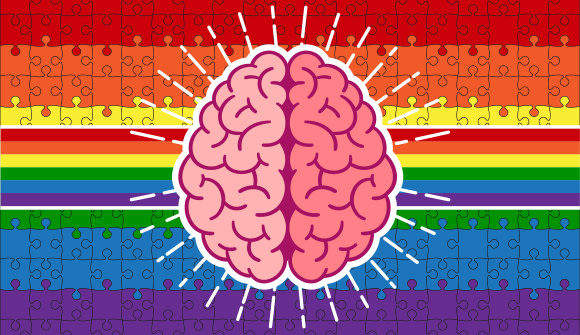 The major disruptions to daily life during the COVID-19 pandemic have taken a heavy toll on children's and teens' mental health. Rates of anxiety, depression and other mental illnesses are quickly rising, with one particular group of adolescents continuing to struggle.
LGBTQ+ youth have faced unique challenges, with loneliness, lack of social connections and conflict in family relationships contributing to psychological distress.
"Stay-at-home orders had a dramatic impact on LGBTQ+ youth by limiting their sources of support or affirmation," said Aylin Emmert, MD, a child and adolescent psychiatrist at Baptist Behavioral Health and Wolfson Children's Behavioral Health. "Many are living in an environment in which they feel rejected, and have been physically isolated from the places in which they once found safety. This has caused profound mental health challenges, forcing some children and teens to go back into the closet or hide their identity entirely."
A recent poll of 35,000 LGBTQ+ teens and young adults (ages 13 to 24) conducted by The Trevor Project, the world's largest suicide prevention and crisis intervention organization for young LGBTQ+ persons, found more than 80% of respondents said COVID-19 made their living situation more stressful. Only 1 in 3 found their homes to be LGBTQ+-supportive.
"These findings emphasize the need for practices and living environments that embrace young people's developing selfhood," said Dr. Emmert. "For example, data shows that just one adult using preferred pronouns and names among LGBTQ+ youth can reduce the risk of suicide. It also helps validate a person's identity and foster self-awareness and self-love."
Data from The Trevor Project paints a picture of how dire the stakes are for LGBTQ+ youth.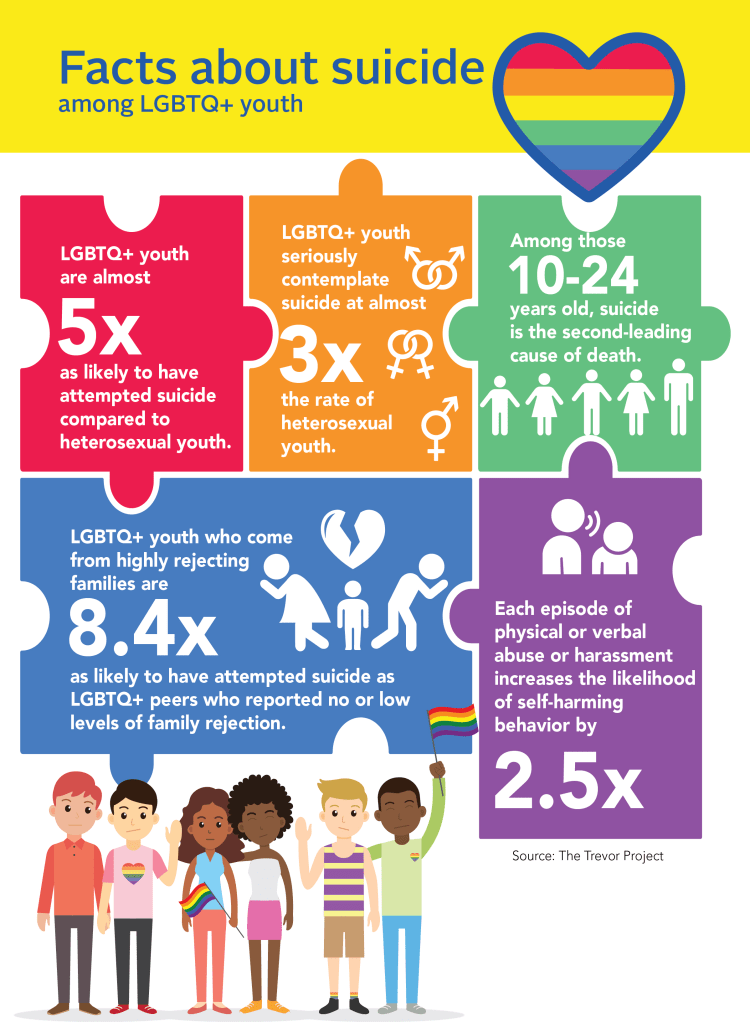 Recognize and respond
Even if parents are having trouble understanding their child's identity or sexual orientation, it is imperative not to withdraw from their role as a caregiver. Positive parenting practices, such as having open and honest conversations, can help a child continue feeling cared for and accepted. It can also help reduce a child's risk of mental health conditions and destructive behaviors.
By staying proactively involved, parents have a better chance of recognizing and responding to any changes in their child's behavior and preventing a potential crisis down the road.
Some behaviors that could be warning signs of depression or suicidal ideation include:
Abusing drugs or alcohol
Admiring people who have died by suicide
Choosing to stay home alone more than usual
Eating too much or too little
Engaging in self-destructive behaviors
Having feelings of hopelessness and despair
Giving away valuable possessions
Having a specific plan for suicide
Saying goodbye to important people
Sleeping more or less than usual
Talking or writing about suicide
---
The key to preventing a crisis is to intervene before a child or teen reaches their breaking point. Wolfson Children's On Our Sleeves provides free, easy-to-use educational tools and resources to help children, families and advocates boost mental well-being, manage mental health conditions and prevent crises. Parents, kids and teens who need to speak with someone immediately can call the Wolfson Children's 24/7 Kids & Teens Helpline at 904.202.7900 or text LIFE to 741741. If there is an immediate safety concern, call 911 or go to the nearest Emergency Department.
To learn more about LGBTQ+ support and resources, click here.