Ed Hubel, FACHE
Interim Hospital President, Baptist Medical Center Clay
Ed Hubel, FACHE Biography and Information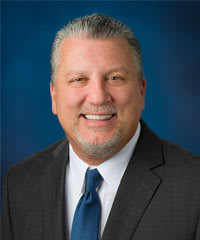 Ed Hubel, FACHE, is interim hospital president for Baptist Medical Center Clay and hospital president for Baptist Medical Center Nassau, a position he has held since December of 2016. Under Hubel's leadership, Baptist Nassau has received an A rating in patient safety eight consecutive times and was awarded a "Top Hospital" by the Leapfrog Group in December 2021.
Hubel has been with Baptist Health since 1986 and has previously served as: assistant administrator of operations; administrator of surgical services; director of patient care operations; and service-line lead for Baptist Health Orthopedics. Prior to health care, he was in the aviation industry.
Hubel is board certified and a fellow, through the American College of Health Care Executives. He has a Bachelor of Science degree from Embry-Riddle Aeronautical University and a Master of Science in Healthcare Administration from Columbia Southern University. He is also a fellow of the Advisory Board.
Hubel serves on several community boards: Nassau County Chamber of Commerce; Barnabas Center; Bring Your Brokenness; FHA Rural Hospital Committee; The AHA Rural Services Committee representing Region 4; and the Health Planning Board (NE Florida). He is a mentor for the Boys and Girls Club of Nassau County and also serves as a mentor for future health care leaders through the American College of Healthcare Executives and local college and health organizations.
He and his wife, Kristie, reside in Fernandina Beach. He has a passion for servant leadership, his faith and his community. For work-life balance, he enjoys fishing, music, sports and journaling.