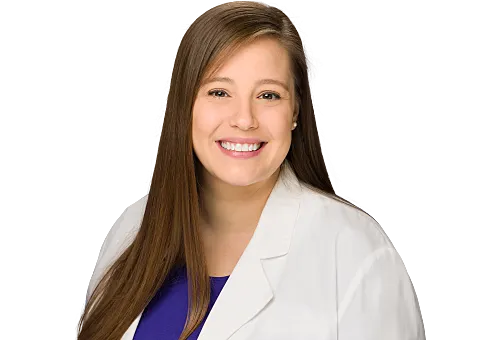 Hannah Alvarado, DO
Family Physician
Hannah Alvarado, DO Office and Other Patient Information
Hannah Alvarado, DO Biography and Info
Dr. Alvarado is a compassionate and empathetic physician who is committed to providing high-quality holistic care for each patient. She is dedicated to forming strong partnerships with her patients to help them meet their mental and physical health goals. She empowers her patients to improve their quality of life through educating them and providing evidence-based medicine. Dr. Alvarado's philosophy of care is to learn who her patients are, what is important to them and what their individual health goals are so that she can best help them achieve those goals. Her areas of expertise include:
Women's Health Including Contraception, Postpartum, Menopause and Hormone Therapy
Mental Health Including Anxiety and Depression
Chronic Diseases Such as High Blood Pressure, Diabetes and Thyroid Disease
Acute Illnesses and Minor Injuries
About Me
I came to Jacksonville for residency at Mayo Clinic after living my whole life in Texas. My husband, my children and I all fell in love with the city and decided to stay! We have 4 children who cannot get enough of the beach life and are my greatest joys. We spend our time together trying out new restaurants, playing in the waves, and going to different parks in the area.
My philosophy on medicine and primary care specifically, is to learn who my patients are, what is important to them, and what their goals are so that I can best help them achieve those goals. I practice evidence-based preventive medicine and chronic disease management. Both women's health and mental health are passions of mine. I was raised by a wonderful psychiatrist (my father) and I value a non-judgmental and caring physician-patient relationship built on trust and respect. I support a holistic, multifaceted approach to patient care and encourage my patients to educate themselves and ask questions so that they can live their best life doing what they love.
Specialties
Languages
Hospital Affiliation
Baptist Medical Center Jacksonville
Baptist Medical Center South
Ages Treated
Adolescent
Teen
Adult
Senior
Hannah Alvarado, DO Additional Information
Education & Training
Doctor of Osteopathic Medicine - Medical School

University of North Texas Health Science Center - Texas College of Osteopathic Medicine - Fort Worth , TX

2013 – 2020

Residency

Mayo Clinic College of Graduate Medical Education - Jacksonville , FL

2020 – 2023
Frequently Asked Questions