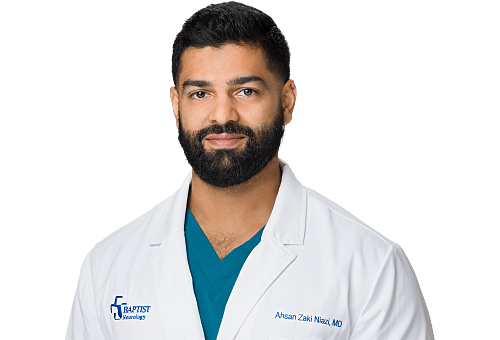 Ahsan Niazi, MD
Neurologist
Ahsan Niazi, MD Office and Other Patient Information
Ahsan Niazi, MD Biography and Info
Ahsan Niazi, MD, is a board-certified neurologist from Houston, TX, with a family tradition in the field. With expertise in Stroke, Epilepsy, Migraine, Neuropathy, Multiple Sclerosis, Memory Impairment, Parkinson's Disease. and related disorders, Dr. Niazi is renowned for his impeccable bedside manner, fostering strong therapeutic relationships with his patients. His areas of expertise include:
About Me
Originally from Houston, TX, I relocated to Jacksonville for my residency, where I met my wife. We are blessed with a beautiful daughter who is our world. During our spare time, we love to explore different parts of the world, and we eagerly await the day when our daughter can join us on these adventures. Personally, I find joy in gardening, grilling, and weightlifting.
In the field of neurology, we confront life-altering diagnoses. Providing effective care demands tailored, nuanced management for each patient. Every decision should be a collaborative process, prioritizing patient autonomy. I strongly believe that physicians should be unwavering advocates, coaches and cheerleaders for their patients.
Specialties
Boards
American Board of Psychiatry & Neurology (Neurology)
Languages
Hospital Affiliation
Baptist Medical Center Nassau
Baptist Medical Center Beaches
Baptist Medical Center Jacksonville
Baptist Medical Center South
Baptist Clay Medical Campus
Legal Practice Name
Ages Treated
Ahsan Niazi, MD Additional Information
Education & Training
Doctor of Medicine - Medical School

TTUHSC School of Medicine - Lubbock , TX

2014 – 2018

Residency

UF College of Medicine Jacksonville - Jacksonville , FL

2018 – 2022
Frequently Asked Questions