Forty-six strings are helping her heal
College-bound musician leans on harp while being treated for cancer at Wolfson Children's.
Johnny Woodhouse Published: 6/15/2018
Isabelle Scott, an award-winning vocalist and harpist, had just started auditioning for a handful of college music schools when she was diagnosed with acute myeloid leukemia, a cancer of the blood and bone marrow and the most common type of acute leukemia in adults.
A member of the Jacksonville Symphony Youth Orchestra, Scott, 18, had to put her auditions on hold while she went through four rounds of chemotherapy at Wolfson Children's Hospital in Jacksonville.
"We were not sure what was going to happen. The future was very uncertain at that point," said Scott, a Jacksonville resident who has been accepted to Converse College in Spartanburg, S.C., to study music.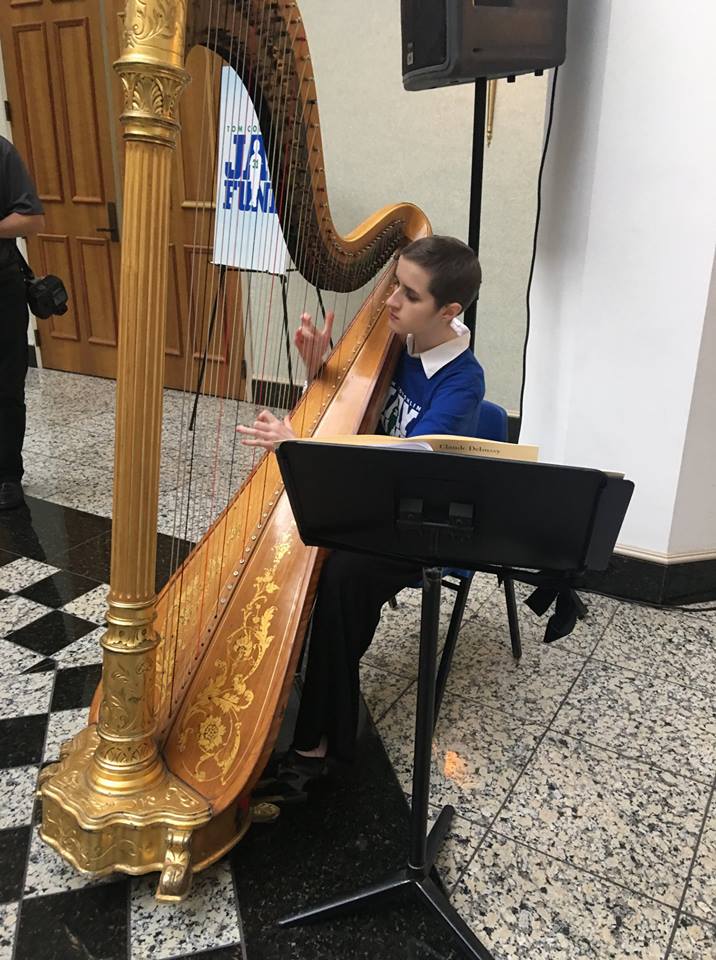 "Ever since I was young, I wanted to do something with music. I really love being on the stage."
The youngest of five children, Scott comes from a family of accomplished musicians. Her older brother is a Juilliard-trained concert pianist. Her older sister attended the prestigious Eastman School of Music in Rochester, N.Y. Scott's mother, Nancy, majored in piano at Converse.
"My sister, who is now a nurse, played the harp. I thought it was pretty and 'girlie' and I wanted to play it, too," said Scott, who won a first-place award for vocals and an honorable mention for harp at the 2017 Concert on the Green Young Artist Competition in Clay County.
While she was being treated for cancer at Wolfson Children's, Scott was never far from her 46-string, semi-grand harp, which was stationed in a corner of her colorfully decorated hospital room. Whenever the mood struck her, the pink-pajama-clad Scott leaned the elegant wooden instrument against her right shoulder and played as if she had been transported to a heavenly realm.
A special visitor stops by
During a recent hospital stay, Scott gave an impromptu performance for a roomful of visitors, including Jacksonville Jaguars Executive Vice President Tom Coughlin and his wife, Judy, who created the Jay Fund in 1996 to help families battling childhood cancer.
At the time, Scott was on the fourth day of her third round of chemo in less than three months. Still, she was able to muster the strength to play a 90-second piece in the key of C. Scott strummed the harp with both hands, using her left to pluck the lowest strings, and her right to pluck the higher notes.
"Wow. That was terrific. What was the name of that song?" Coughlin asked.
"It's called 'Angel's Hymn,'" Scott answered.
"You played that so well," Coughlin added.
A musical future
On the personalized nameplate outside Scott's hospital door, Isabelle is written in flowing cursive letters. The nameplate also includes a sketch of a golden harp.
While undergoing chemo, Scott, who plans to take online classes in music history and theory next fall through Converse College, didn't always feel like practicing, but just knowing the harp was close by was a comfort.
"Even with all of my health issues, I can still get up and go over to the harp and play something and not only will I enjoy it, but the people around me will enjoy it," Scott said after playing Carlos Salzedo's "Song in the Night," one of her favorite tunes because it shows off some of the more unusual sound effects of the harp.
"Music is something I can always hold on to."
Close X