Healing from the inside out
How hyperbaric medicine helped rocker get back on stage.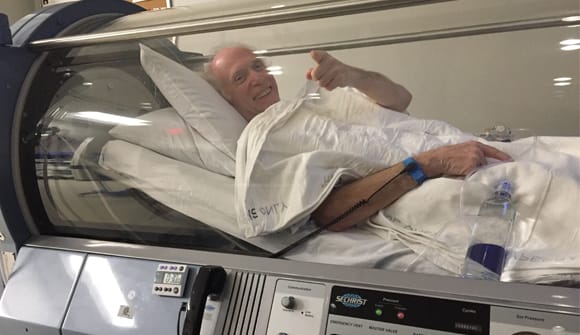 Dennis Herbert, 72, a three-time cancer survivor and lead guitarist in a classic rock band, is no stranger to challenges. But he was worried that radiation damage to his tissue from his cancer treatment would get the best of him.
Defeating prostate cancer required radiation treatments, and, as a result, Herbert developed a condition called radiation cystitis, which damages tissue in the bladder and causes scarring. The scars caused Herbert pelvic pain and bleeding, making it hard to walk and function normally. It got to the point where he needed a catheter bag.
Herbert thought this would be his "new normal" – a vast difference from the life he was accustomed to, spending time with his seven grandkids, designing custom jewelry and, of course, playing in his band.
"I'm the guy who hurts your ears," he said jokingly about being lead guitarist. Herbert continued to play at weddings and local venues even though he could barely walk.
"They propped me up on a stool, but it was getting really difficult," he said.
He and his wife, Peggy, were relieved when they learned that Baptist Medical Center South had recently opened a Center for Wound Care and Hyperbaric Medicine, hoping it might be the answer he needed to resume normal life.
Herbert was evaluated by Anamika Agrawal, DO, a wound care and hyperbaric medicine specialist, who determined that hyperbaric oxygen therapy would be a good option for healing his internal wounds.
How can oxygen heal?
Hyperbaric medicine works by delivering high levels of oxygen to the patient's bloodstream in a pressurized environment. This increases the supply of oxygen delivered to the wounded tissue, stimulating new growth in blood vessels. Hyperbaric oxygen therapy has been shown to enhance the healing process.

The treatment takes place in a chamber you can see out of, and the patient lies on a stretcher inside the pressurized chamber. Patients breathe 100% oxygen and their blood carries the extra oxygen to the injured area.
"When you breathe 100% oxygen, it reaches your blood vessels and helps renew dead tissue," explained Dr. Agrawal. "When a person has radiation treatment [for cancer], it kills the bad cells but unfortunately, it kills good tissue as well. That's what happened in Dennis's case."
Hyperbaric medicine is increasingly being used for cancer patients who've had the same experience.
Herbert had a total of 50 treatments (90 minutes each) which he went to every day for three months except on weekends. "I didn't feel any pain. The only thing I noticed was my ears popping and a little pressure," he said.
Being in a small space was not a problem for Herbert, who spent many years piloting his own single-engine plane. "The chamber is about the same size as a small cockpit," he said.
To help pass the time, patients can watch movies or TV. "I watched all nine Star Wars movies," he said. "The experience was so much better than I ever expected."
After about 15 treatments, Herbert started to notice a difference. Half-way through his treatments, he felt well enough to walk on a treadmill.
Now that his treatments are over, Herbert's wounds are healed and he's been able to resume his normal activities and add a few new ones, like working out at the gym and doing yoga.
"Before this treatment, my walk was a shuffle. Now I can dance," said Herbert. And, he's back on stage rockin' out with his band.
If you're experiencing a wound that won't heal, call 904.202.HEAL for an appointment at one of our three Wound Care Centers.