Back in the hospital, but this time as caregivers
Childhood cancer survivors return to Wolfson Children's to comfort a new generation.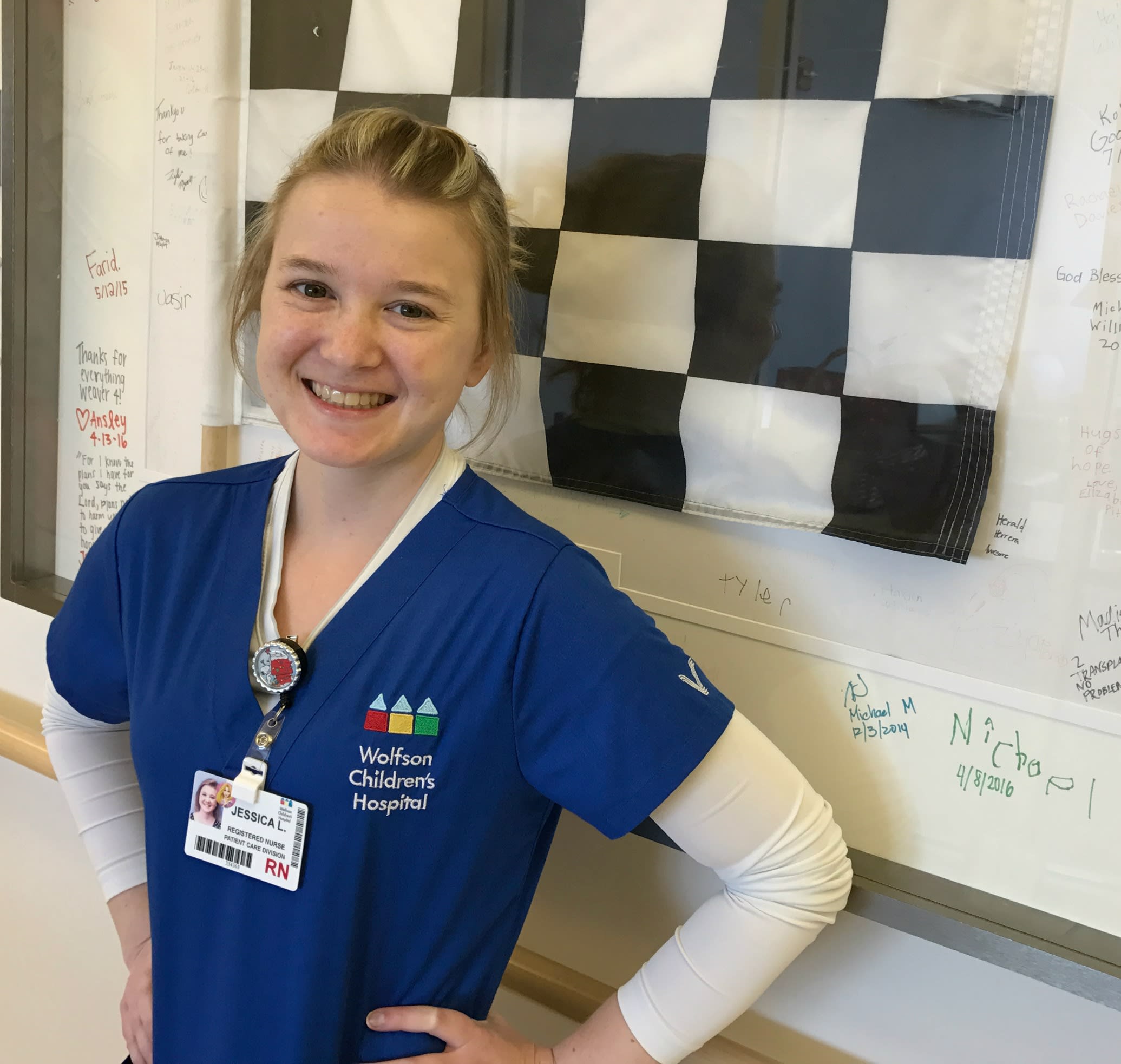 Sometimes the best place to find hope is from someone who really knows what you're going through.
Jessica Lewis, RN, and Whitney Pinson, CNA, two members of the caregiving team on the oncology floor at Wolfson Children's Hospital, share a childhood experience that allows them to bring something special to their young patients.
Call it the gift of insight.
Diagnosed at 6 with Wilms Tumor, a type of kidney cancer, Lewis faced years of uncertainty marked by the highs of remission and the lows of treatments and surgeries. Pinson was diagnosed at age 10 with a rare cancer of the bones and connective tissues called Ewing's Sarcoma, which resulted in seemingly endless treatments.
Each underwent several rounds of chemotherapy and radiation, and relapses that eventually required a peripheral blood stem cell transplant for Lewis and a bone marrow transplant for Pinson. Both treated at Wolfson Children's, the two women have been in remission for about a decade.
They say they're thankful and inspired by their own journeys and grateful to those who took such great care of them. So it's no wonder that Lewis and Pinson felt called to a career that led them right back to the place where they'd met their battles for survival head on.
Today, they're putting those experiences to good use by working with children who are living with the life-altering diagnosis of cancer.
"My cancer story will always play a major part of who I am as a person, but it's also the reason that I chose the career that I did," Lewis said. "There's a certain strength and hope I find in each patient I care for, and I feel a connection to them that I don't think others can experience.
"With that, I hope to inspire families and become a source of comfort and light during their challenging times."
Pinson agreed wholeheartedly.
"When I was going through treatment, I always thought about this," she said. "Today, I am happier than I have ever been in my life."
Christopher Noll, BSN, RN, NE-BC, nurse manager of the pediatric oncology unit, hired both young women, and says it's heartwarming to watch them give the same compassionate care they received.
"It's really wonderful when someone comes into health care with a compelling personal experience, and many members of my staff have stories about how cancer impacted their lives," Noll said. "These two not only have compelling stories, but what they experienced happened right here at Wolfson Children's. It's been a blessing to have them here, and to see them both doing so well."
One of their oncologists more than a decade ago, Eric Sandler MD, chief of the Division of Pediatric Hematology/Oncology at Nemours Children's Health, Jacksonville, is thrilled to see them not only thriving, but serving in roles that allow them to use their first-hand knowledge of childhood cancer in a very meaningful way.
"Children with cancer certainly endure an awful lot that that they should not have to," Dr. Sandler said. "It is always a pleasure to see our former patients as healthy survivors, but seeing them now wanting to give back and help the next generation of patients, well, that is inspiring to our entire team. We are so proud of both of them."
These two ambassadors of hope are now spreading a message they want all of their patients to hear: When hope comes from hardship, the battle is already being won.
"A positive attitude goes a long way when we're facing troubles in life," Pinson said. "The most important thing I can tell a child who is going through this disease is to always have hope, and keep your head held high!"