Belle of the ball
Wolfson patient with spina bifida will stand and dance with her dad for the first time during her quinceañera.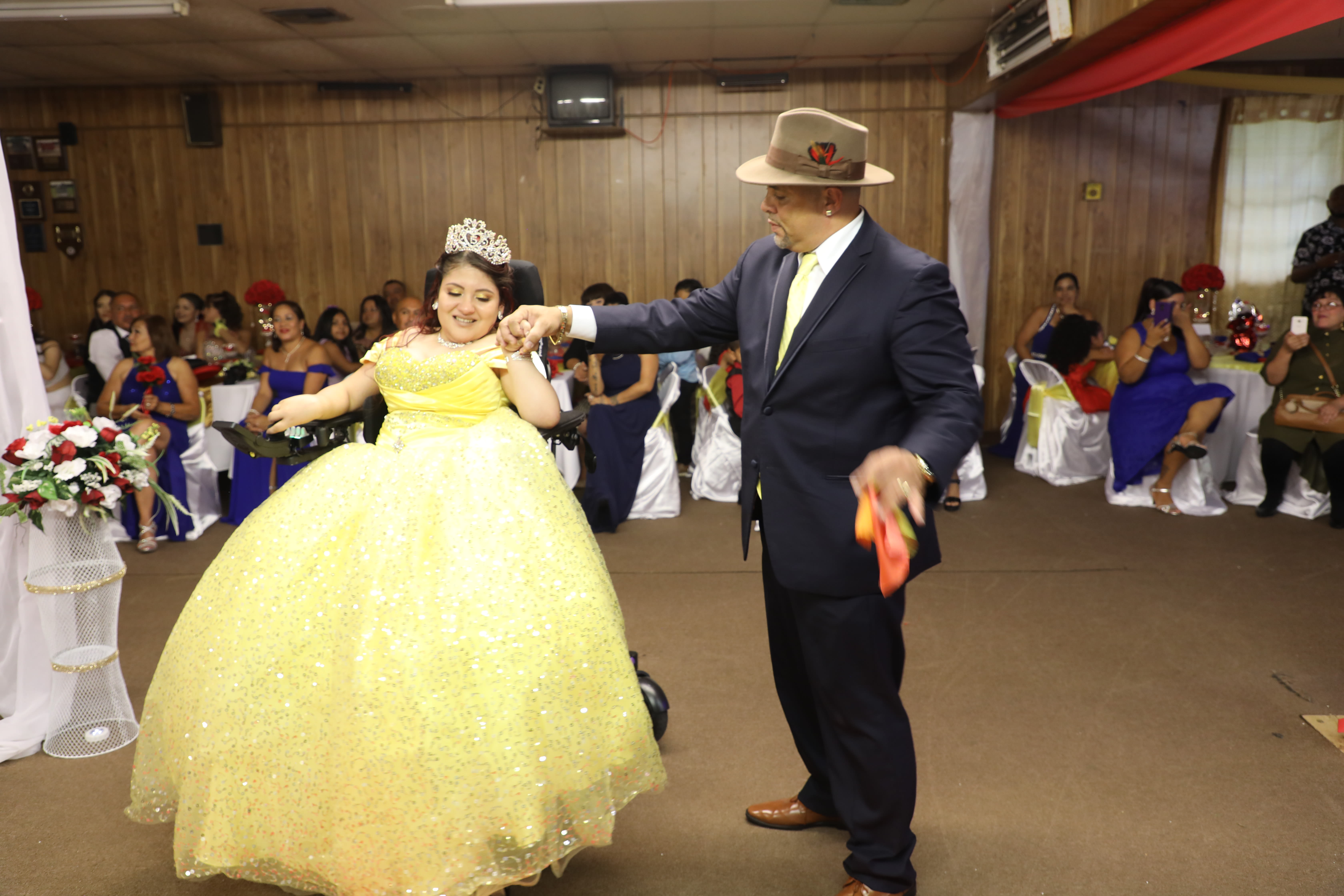 Elegant gowns, a large guest list of family members, dozens of food trays and endless to-dos.
When Yanira Guzman and her mom Jeannie Del Valle talk about August 17, it sounds like they're planning a wedding. But it's really Yanira's quinceañera.
For young women growing up in the Latino culture, their quinceañera is a celebration of their 15th birthday, a day honoring their transition from childhood to adulthood.
August 17 is a day that is even more significant for Yanira and her family because on this day, the Interlachen, Florida, teen who was born with spina bifida will use her new power chair to stand up and dance with her dad for the first time. She hopes this moment will be symbolic not only for her but for all of those with special needs.
"I just want to change the world!" said Yanira.
Thanks to her brand new Permobil power wheelchair from Numotion, the Wolfson Children's Hospital and Wolfson Children's Rehab patient can rise to a standing position and sway to the beat of the music with her dad at her Beauty and the Beast-themed party. She has two gold ball gowns to complete her Beauty look, and her dad has graciously agreed to play the part of the Beast.
New wheels
The power chair Yanira has received is a very expensive medical device, and she and her family were worried about how much it would cost.
"I didn't want to get my hopes up," Yanira said. But then her care team at Wolfson Children's Rehab told her "Keep your hopes high."
Yanira and her mom were taking a break between doctor's appointments on June 28, looking for dolphins on a walkway by the St. Johns River near Wolfson Children's. Sometimes, there are flocks of dolphins whose fins pop up above the surface of the water, but on that day there was only one.
Del Valle's phone rang, and she got the news that Yanira would be getting her chair.
As if on cue, a flock of dolphin fins appeared on the St. John's, celebrating along with them. "It was like magic," Del Valle said.
Yanira's care team was able to medically justify the need for this specialized chair, which fortunately her insurance was then able to cover.
Since she got her power chair, which is complete with headlights, taillights, and blinkers, Yanira has enjoyed racing after her friends. She's also looking forward to going to high school. She had to be home-schooled for the past three years because medical procedures required her to miss days of school at a time, but this month she'll head to Interlachen High School for her freshman year.
All of these positive moments in Yanira's life, from her quinceañera to her return to school, would not have been possible without the help of her care team at Wolfson Children's Hospital, including Christine Thorogood, MD, and Louise Spierre, MD, pediatric physiatrists with the UF College of Medicine – Jacksonville; and Wolfson Children's Rehab's Lisa Towery, a pediatric occupational therapist, Madelyn Jones, a pediatric physical therapist, and Karen Reckamp, a pediatric rehabilitation manager and pediatric occupational therapist. Before getting her chair, the Wolfson team had Yanira practice standing at home for 15 to 20 minutes a day beginning in the fall of 2018, helping to build her strength.
Yanira's can-do spirit has also shaped her outcomes and made these milestones possible.
"When she comes into a room, the room lights up," Dr. Spierre said. "She always approaches challenges with a very positive attitude, and her mom does, too."
Towery and Jones said Yanira has grown so much in the two years they have worked with her.
She has gained range of motion in her knees and ankles and increased the strength and bone density in her legs. With the help of braces and her new chair, she'll be able to be at eye level with her peers in high school. When her mom transfers Yanira from her chair to the car or her bed, she can bear some of the weight in her legs and help out.
Marielle Amoli, MD, a pediatric orthopedic surgeon at Wolfson Children's Hospital, performed a procedure in 2018 that involved rerouting muscles in her right wrist. The procedure helped Yanira to gain more movement and has made it possible for her to assist with tasks including feeding herself. She's also been able to use her hand to paint, write, and guide her wheelchair.
Yanira has become more confident too, directing her therapists in how she wants to move and being more open about her goals for improving her mobility. Now, her care team is looking forward to hearing about her return to school and seeing her enjoy life as a teenager.
Towery and Jones said Yanira has many abilities and strengths that will ensure her continued success at home, at school, and out in the community.
The next big thing
For Yanira, the chair is the first of many big changes to come. Her goal is to become a fashion designer specializing in creating clothing for those with special needs.
Her first step toward achieving this goal is getting some experience as a model on December 8 at the Art & Antiques Show's annual Children's Fashion Show, produced by The Women's Board of Wolfson Children's Hospital. Through the lens of fashion, Yanira plans to acknowledge the sadness and anger that comes with being confined to a wheelchair, but also show off the newfound confidence and strength she has gained over the years. She wants to inspire others to support those with special needs.
"I want to show people that we are people who need help, and I want people to care about us," Yanira said.
---
If you are interested in learning more about the comprehensive therapy services available at Wolfson Rehabilitation, please visit wolfsonchildrens.com.