Child Health Brain, Spine & Nerve
Hope in Savannah
Family traveled all the way to Jacksonville to get care from their trusted pediatric neurosurgeon.
Juice Staff Published: 7/11/2018
Hope is more than a four-letter word to Tara Nance.
The word encompasses all the love she carries for her 14-year-old daughter, whose name is, in fact, Hope, but it is an also an emotion Nance has held on to a lot in the last four years.
Recently, she replaced it with gratitude.
Her daughter recovered from a 13-hour brain surgery procedure to remove a dangerous non-cancerous tumor on January 23, 2018, followed by a 10-day stay at Wolfson Children's Hospital in Jacksonville, Fla. Nance is grateful for the care Hope received from pediatric neurosurgeon Philipp Aldana, MD, co-medical director of the Stys Neuroscience Institute at Wolfson Children's.
"Dr. Aldana is so kind and treated us like family. He went above and beyond to comfort Hope and we trusted his professionalism," Nance said. "Everyone we met at Wolfson Children's was phenomenal."
Hope has been under Dr. Aldana's care for nearly four years.
It all began in 2014 when she started experiencing migraines that wouldn't go away, so her mother took her to Nemours Children's Specialty Care, Jacksonville. The doctor at Nemours referred the Nance family to Dr. Aldana.
A high-resolution MRI and CT scan at Wolfson Children's confirmed Hope had a small mass about the size of a pea in her cerebellum.
"We found an abnormality in her brain that could be suspicious for a tumor," Dr. Aldana said. "My recommendation was to monitor the growth and keep track of it."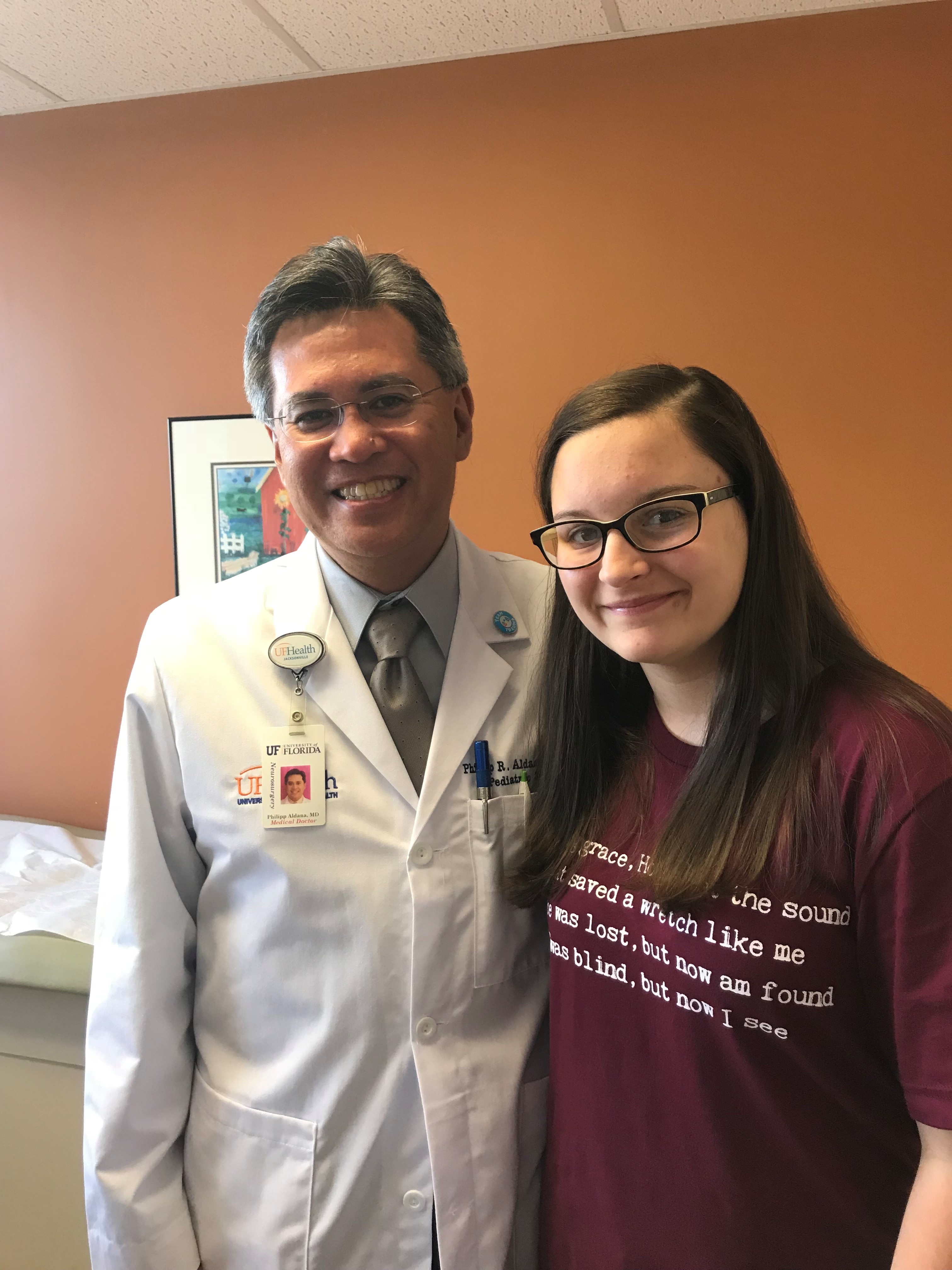 For more than three years, Hope maintained a routine of MRIs, CT scans and appointments with Dr. Aldana every three months.
Approximately two years ago, the Nance family moved from Jacksonville to Guyton, Ga., north of Savannah. In spite of having to travel two-and-a-half hours each way to clinic visits, they wanted to remain with Dr. Aldana.
"We knew we were in the best care and we didn't want to change," Nance said. "I didn't care – I would drive anywhere to see Dr. Aldana."
A new concern
Hope continued to see Dr. Aldana every three months and the mass remained the same until December 2017, when the MRI and CT scan showed the mass had grown to the size of a large peanut.
Dr. Aldana confirmed it was a low-grade astrocytoma (Level II) and recommended Hope have it removed surgically.
Many different types of brain tumors can affect children and teenagers, and they are among the most common types of childhood cancers. The symptoms of a tumor will depend upon the location inside the skull, the size of the tumor and the structures that the tumor is pressing upon or changing.
Hope returned to Wolfson Children's Hospital in January 2018 to remove the tumor. Using an intraoperative MRI, technology available at only a few children's hospitals in the country, Dr. Aldana was able to get a better view of the tumor during surgery.
"The intraoperative MRI scans the brain in the middle of the surgery to determine if any of the tumor has been left behind or if the tumor is completely removed," Dr. Aldana said. "It is better to take the extra steps during the procedure than having to bring the patient back for another surgery."
In non-medical terms, Dr. Aldana removed the non-cancerous brain tumor.
Thankfully, Hope doesn't require any further treatment, but will need an MRI every three months for the next two to three years to monitor for any changes following the surgery.
"I want to thank Dr. Aldana and Wolfson Children's Hospital for making a difference," Nance said. "He was compassionate and caring, and I have a great appreciation for all that he did for Hope and our family."
Services provided at Wolfson Children's Hospital are provided primarily by pediatric physician specialists with Nemours Children's Specialty Care, Jacksonville, and the University of Florida College of Medicine – Jacksonville.
Close X