How to stay safe around the playground
April 22-26 is Playground Safety Week.
Juliette Allen Published: 4/24/2019
Playgrounds are typically filled with high-pitched laughter and squeals of delight, but every now and then, a wail of pain brings playtime to a sudden end. Each year in the United States, emergency departments treat more than 200,000 children age 14 and under for playground-related injuries.

"They don't have any fear and they don't know what can happen," said Cynthia Dennis, RN, Injury Prevention and Safe Kids Northeast Florida coordinator for THE PLAYERS Center for Child Health at Wolfson Children's Hospital. "Young children don't have any judgment yet."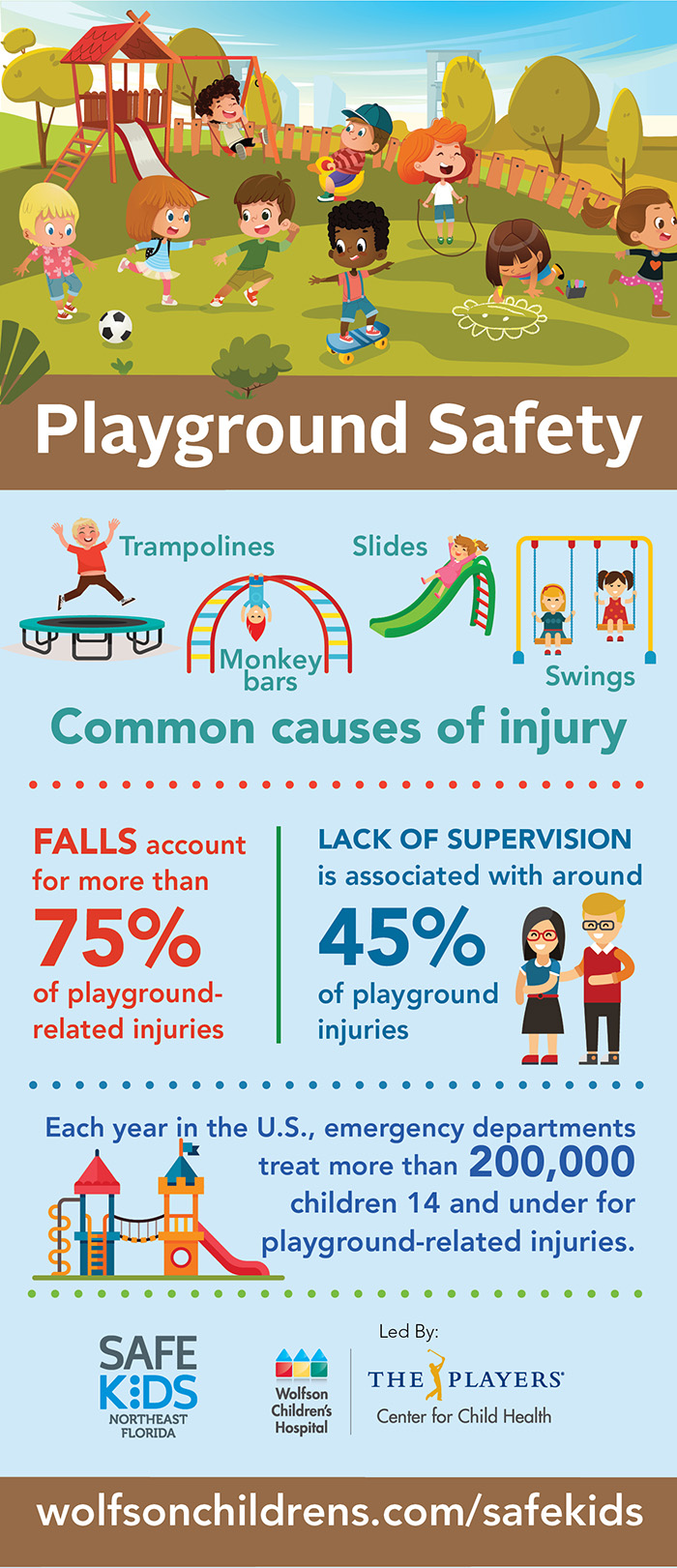 In just the first three months of 2019, Wolfson Children's Hospital discharged 26 children with playground-related injuries severe enough to warrant admission to the hospital. The most common causes of injury were (in order): trampolines, monkey bars or jungle gyms (climbers), slides and swings.
According to Safe Kids Worldwide, falls are the most common playground injury, accounting for more than 75% of all playground-related injuries. Additionally, lack of or improper supervision is associated with around 45% of playground injuries.
Often times, a situation turns from harmless to dangerous in seconds.
"One time, I walked out into my backyard, and my then-10-year-old son was walking across the top beam of the swing set," Dennis said. "That's the kind of thing kids do." She added that her daughter's only broken bone was caused by a fall from a swing, and her own first trip to the emergency department as a child was from a see-saw accident.
While the numbers can be scary, Dennis said playgrounds are still vital for a child's development.
"We don't want kids to miss out on building strength, coordination and confidence," she said. "We just have to be smart about it."
Parents and caregivers should keep these tips in mind before the next trip to the playground:
Actively supervise kids on playground equipment. Simply being present is not enough. Avoid things that will distract your attention from your child, like a cell phone or too much socializing with other parents.
Check the playground for hazards like rusted or broken equipment and dangerous surfaces. Report any hazards to the school or appropriate local office.
Teach children that pushing, shoving or crowding while on the playground can be dangerous.
Dress appropriately. Remove jewelry, scarves and clothing with drawstrings that could get caught on equipment, posing a strangulation hazard. If a child bikes to the playground, be sure he/she removes his/her helmet before getting on any equipment.
Seek out playgrounds with play areas separated by age.
Ensure safe surfacing beneath and surrounding playground equipment. Avoid playgrounds with non-impact absorbing surfaces like asphalt, concrete, grass, dirt or gravel. Look for playgrounds with sand, pea gravel, wood chips, mulch and shredded rubber. Rubber mats, synthetic turf and other artificial materials are also safe surfaces.
Surfacing should be at least 12 inches deep and extend at least 6 feet in all directions around stationary equipment. For swings, surfacing should extend in the back and front, twice the height of the suspending bar.
Check that all playgrounds are inspected and maintained by qualified personnel. Double check with school and child care centers to make sure the playgrounds are regularly inspected and to find out when the last inspection was.
THE PLAYERS Center for Child Health at Wolfson Children's Hospital provides child injury prevention information through Safe Kids Northeast Florida. Programs offered include car safety, water safety, infant safety, bike safety and home safety.

Sources: Safe Kids Worldwide and the Centers for Disease Control and Prevention.
Close X