'I remember seeing light...then I blacked out'
Mother and son advocate for water safety after he nearly drowned 11 years ago.
Katie Mcpherson Published: 7/4/2018
Andrew Roberts, 13, lives in Fleming Island with his mom, Tracy Killebrew. The soon-to-be 8th grader at St. Johns Classical Academy enjoys hunting and all things tech. And he is already enjoying his summer vacation.
Looking at him now, you'd never know what he has survived to get where he is — he nearly drowned at just two years old. Drowning is the leading cause of death for children between the ages of one and four years old.
For Andrew, his near-death incident isn't a defining part of his life. It's simply a lesson he hopes to share with parents and guardians of small children, like his younger self.
Andrew was spending the weekend with his dad and was enjoying the pool with a relative, who looked away for a split second. In that brief moment, Andrew took one step too far into the deep end.
"I remember seeing the light above me, and then I blacked out," said Roberts.
Back at her house, Killebrew was folding laundry when she got the call. "It was Andrew's aunt, his dad's sister, saying that Andrew had been taken to Wolfson [Children's Hospital] because there was an accident in the pool and he almost drowned," she remembered. "I called my sister immediately to drive me downtown because I was way too upset to drive. When I got to the ER, he was as white as a ghost."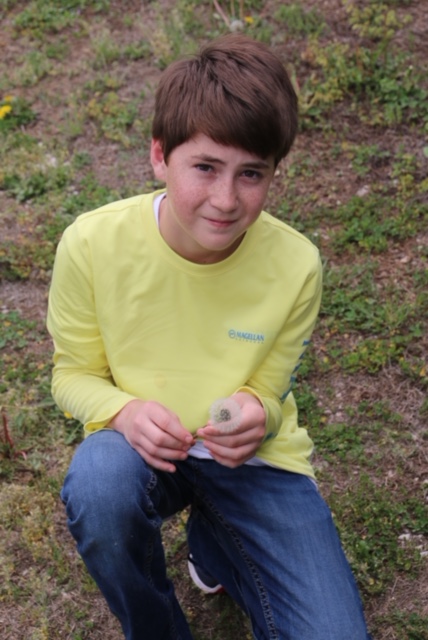 Andrew had been taken by ambulance to the Life Flight helicopter, and then brought to Wolfson Children's Hospital of Jacksonville. He recovered over the weekend and was released just two days later. He hadn't been deprived of oxygen long enough to experience any effects to his brain, but it was time to take preventive measures.
"I decided we were going to be proactive. He's going to know how to swim and how to get to the edge of the pool," Killebrew recalled. "The Fleming Island High School swim coach reached out to me and said she was willing to give Andrew survival swim lessons. It wasn't even three months and he was back in the pool. He was like a fish in water after that. I would say if you're going to be near a swimming pool, get them lessons."
Today, Andrew has no fear. He loves going diving, being around the ocean, and says he "can't get enough of the water." He said survival skills are vital for young children, especially in Florida, and so is being attentive if you're the adult on watch.
"Adults shouldn't leave their kids alone or be on their phones," Andrew said. "They need to be watching what their kids are doing, and having fun with them in the pool. You don't have to have the experience I did."
Cynthia Dennis, RN, coordinator of Safe Kids Northeast Florida, seconds Andrew's advice to parents.
"In 2017, 40 children were treated at Wolfson Children's Hospital as a result of drowning, and all of those incidents were preventable," she said. "The common denominator is a lack of adult supervision, whether a parent turns their back for just a minute or the child is unsupervised and finds a body of water to get into. Drowning is a silent event and it takes two minutes or less for a child to lose consciousness when submerged. For that reason, constant visual supervision must be maintained at all times when kids are in and around the water."
5 Tips for Safe Swimming from Safe Kids Northeast Florida's Lifeguard Your Child Campaign
1. Actively supervise children in the pool.
Give swimming children your undivided attention. At a swim gathering, at least one adult should be the designated "Water Watcher." A Water Watcher sits within arm's reach and does nothing else but keep his or her eyes on the kids, constantly. At a party, parents and other adults can take 15-minute shifts. Keep hands on infants and young children who can't swim yet.
2. Make it difficult for a child to get into the pool unsupervised.
Backyard pools should be fully enclosed in fencing at least four-feet high, with a self-closing, self-latching gate. Install an alarm to sound if the gate is opened. When using inflatable or portable pools, remember to empty them immediately after use and store them upside down, out of children's reach.
3. Learn CPR.
Parents and other adult caregivers should learn CPR, especially if children will be swimming at home rather than at community pools staffed by trained lifeguards. If you think your older children would benefit, have them attend lessons, too.
4. Be wary of pool drains.
Teach your children to avoid swimming near pool drains or suction outlets to avoid entrapment. Have a licensed swimming pool professional inspect your pool or spa at home, and immediately replace any broken, missing or loose drain covers.
5. Teach kids about swimming safety.
Enroll your child in swimming lessons so they can learn to tread water, float and get to the edge of the pool. Keep them in swimming lessons to learn all they can and to develop strength and endurance. Look for the "Learn to Swim" box at wolfsonchildrens.com/water for information on where to get swimming lessons locally.
Safe Kids Northeast Florida is led by THE PLAYERS Center at Wolfson Children's Hospital.
Close X