Toddler celebrates 'smileaversary'
Georgia family smiling as they celebrate 1-year anniversary of son's cleft lip surgery.
Juice Staff Published: 12/4/2019
At 15 months, Andrew Boddie is a smiling, happy baby. His parents, Alexandria and Chrisshun Boddie, also are smiling as they celebrate the one-year "smileaversary" of Andrew's successful lip surgery.
Andrew had bilateral cleft lip surgery performed by Sarah Fernandez, MD, a pediatric plastic surgeon with the Snyder Family Cleft and Craniofacial Center at Wolfson Children's Hospital of Jacksonville and Nemours Children's Specialty Care, Jacksonville. A bilateral cleft lip occurs when the developing lip of the fetus fails to fuse, creating defects in the skin, muscle, and mucosa of the upper lip. It can also affect the nose.
"From the beginning, they made sure that I had all of the tools and information I needed, giving me the knowledge and confidence that I needed so that I would know the best way to care for my baby," Alexandria said.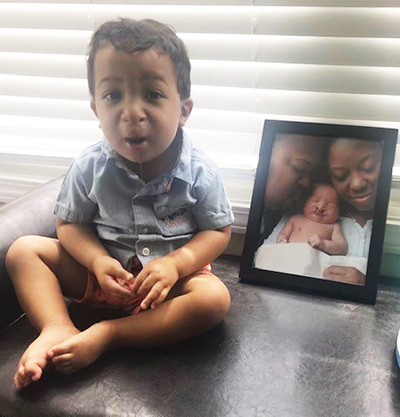 At 22 weeks, Alexandria's obstetrician detected a cleft lip condition near the baby's lip and mouth area during a routine ultrasound. Alexandria was referred to the Snyder Family Cleft and Craniofacial Center at Wolfson Children's Hospital. The Center's Cleft Palate Team provided the Boddies with information about their son's condition, future treatment and care.
"Cleft lip and palate patients have a unique set of needs that go beyond the surgical care involved," explained Dr. Fernandez. "The gold standard of cleft care is an interdisciplinary team that can provide coordinated care. Our American Cleft Palate-Craniofacial Association (ACPA)-approved Team includes specialists from pediatrics, speech therapy, psychology, social services, nursing, otolaryngology, audiology, neurosurgery, oral maxillofacial surgery, craniofacial surgery, dental, and orthodontic backgrounds to ensure that these needs are met in a prompt, coordinated fashion. We are passionate about providing the best and most up-to-date care for our patients, and our team is active in both state and national craniofacial organizations to ensure we meet this goal."
Before Andrew was born, the Center's support team helped Alexandria understand what to expect. They provided a treatment plan overview and explained the concept of team care. They discussed the special feeding needs of a newborn born with a cleft and demonstrated specialty feeding systems. When Andrew was born at Baptist Medical Center Jacksonville, the support team arrived shortly after to provide Alexandria and her new baby with feeding support, cleft education and specific treatment planning.
"Even though I'm a nurse, I had never experienced anything like this before," Alexandria said.
Preparing for surgery
At four months, Andrew had a cleft lip repair performed by Dr. Fernandez at Wolfson Children's Hospital.
"In Andrew's case, the width of his cleft meant that many of the central lip structures were quite small, requiring us to be creative with the design of the repair," said Dr. Fernandez. "His premaxilla, the central portion of his upper jaw, was also pushed forward which created a challenge in repairing his orbicularis muscle. In many bilateral cleft lip cases, this situation requires a two-stage repair. Fortunately, we were able to achieve a single-stage repair for Andrew."
In addition to the lip surgery, Andrew had palate surgery in February 2019. The Boddies are grateful to have received exceptional medical and surgical care close to home.
"The entire team has been great throughout the process," Alexandria said. "It has been wonderful to have their support."
The Snyder Family Cleft and Craniofacial Center at Wolfson Children's Hospital is an ACPA-approved Team and has met the Standards of Team Care for Cleft and Craniofacial Teams set by the American Cleft Palate-Craniofacial Association (ACPA). Wolfson Children's Hospital's regional program is one of 112 in the country, seven in Florida and two in Georgia to have earned this approval. The Snyder Family Cleft and Craniofacial Center at Wolfson Children's Hospital receives generous support from the Edward and Lizbeth Snyder Pediatric Cleft and Craniofacial Conditions Endowment.
Close X