What's wellness?
8 types of wellness that show the true picture of health.
Wesley Roberts Published: 9/23/2019
Normal blood pressure, an average BMI and a solid workout routine? It's all part of wellness but it doesn't capture the full picture.
While physical health comes to mind for most and mental health comes to mind for some, knowing to be wholly well can help you improve your personal well-being in a well-rounded way.
8 dimensions of wellness:
1. Social: It's healthy to maintain good relationships, care for others and let others care for you. Social wellness includes giving back to your community and developing a support system. Try prioritizing your schedule to make time for social activities you enjoy with friends or searching for local volunteering opportunities.
2. Emotional: Life gets tough. Being equipped to deal with varying emotions of yourself and others is a significant part of emotional wellness. If you're looking for support from licensed professional, the team at Baptist Behavioral Health can help.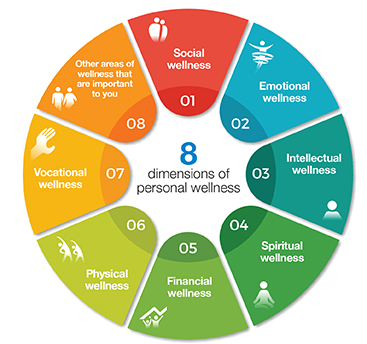 3. Intellectual: Let your creativity shine! Intellectual wellness encourages us to engage in creative and mentally stimulating activities. Learn a new language, pick up a hobby, read a new book or write a story – the options are endless!
4. Spiritual: Identifying your "why" can expand your sense of purpose and is a very personal part of your wellness journey. It's rooted in your personal values, beliefs and purpose.
5. Financial: Financial wellness varies from person- to- person but it's all about managing your resources, making informed spending decisions and setting realistic goals. Start here by getting an idea of your monthly spending expenses and formalizing a budget.
6. Physical: Find a primary care doctor to help you focus on caring for your body to stay healthy now and in the future. Call 202.4YOU to find the right doctor for you. Find movement you enjoy!
7. Vocational: One-third of your life is spent at work – that's more than 90,000 hours. This can be extremely taxing if you're in a position that doesn't align with your personal values. Vocational wellness is centered on participating in work that provides personal satisfaction. To feel well in this area, develop a career path that provides meaning to you.
8. It's personal: The eighth dimension of wellness is a "free space" for you to add other areas to your wellness plan that are personal to you.
Identifying changes you would like to make can be hard. Don't know where to start? Start with one area you would like to improve and add just one thing you can implement in your life that will help you reach your goal.
We know it can be time consuming. That's where the health coaches at Baptist Health come in. They have the time to provide practical how-to advice and help you set goals based on what is important to you. They can help you make a small change in your daily routine that can make a big difference in how you look and feel.
Request your coaching session at baptistjax.com/healthcoach or call 202.4YOU.
Close X