Christopher is cured
How one boy beat Hodgkin's lymphoma without a blood transfusion.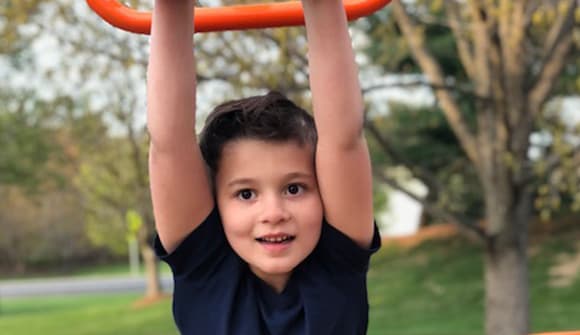 Christopher Moise-Porras loves Legos, video games, Spiderman, Marvel comics and food – all kinds of food.
So, in the spring of 2019 when he started becoming picky, losing weight, and experiencing stomach pain, his parents grew concerned. On June 20, Christopher began vomiting and had difficulty walking. His parents rushed him to the ER at Wolfson Children's Hospital.
"When I brought him in, I thought maybe he had appendicitis, not cancer," his mother Tania said. X-rays revealed a mass in her son's chest. That's when Christopher was diagnosed with Stage II Hodgkin's lymphoma.
Where faith and science meet
For Christopher and his family, which includes parents Neil and Tania and little sister Francesca, their faith is paramount. As Jehovah's Witnesses, they believe that a person's blood is sacred.
"As a family, we thank God every day. We pray before we eat and go to sleep. It's a big part of our lives," said Neil. "In our faith we respect blood as it is written in the Bible. Everyone's blood is like a unique fingerprint. We don't donate blood, we don't take blood into our bodies, and we have to rely on our beliefs and science, and our doctors as well."
When Christopher's doctors told his parents he would most likely need blood transfusions during his chemotherapy treatment to support his red blood cell counts, they did just that: they turned to prayer, then to science.
"We spoke to the doctors about the different options, we prayed about it, and we asked for guidance. One of the lead doctors explained to me there was a Bloodless Medicine & Surgery Program here in the hospital, and said they'd do all they could to respect our wishes. We spoke to them and felt assured that, with their program, we would succeed."
What is bloodless medicine?
The Bloodless Medicine & Surgery Program at Baptist Health and Wolfson Children's Hospital is the only one of its kind in Northeast Florida. Bloodless medicine involves using special techniques and therapies to safely and effectively treat patients without the use of donor blood products or transfusions. Some people seek out the program for religious reasons, like Christopher's family, while others may have had reactions to transfusions in the past or health conditions that make them ineligible to receive donor blood.
Manisha Bansal, MD, board-certified pediatric hematologist/oncologist with Wolfson Children's Hospital and Nemours Children's Specialty Care, led Christopher's care team. She said using bloodless medicine in a child's treatment is extremely rare.
"In the 14 years I've been here, this is the second time I've had to use a truly bloodless medicine strategy in a cancer patient. It's difficult to predict in oncology when a child will need a blood transfusion. For one child, they may need a lot of transfusions, and for another, they may need far fewer."
Christopher's parents agreed to proceed with intensive chemotherapy over the course of four months with the intention of avoiding blood transfusions.
A personalized plan in action
After Christopher's first chemo treatment, his white blood cell count dropped to zero and his hemoglobin dropped to 7 g/dL, numbers that would typically require a blood transfusion. His parents searched for any way to support his immune system, ultimately working with the Wolfson Children's Hospital team to add as many iron-rich foods to his diet as possible. They blended beets, steak, sweet potatoes, watercress and more to use in his feeding tube. They made homemade teas to soothe his stomach and prevent mouth sores. And it helped.
"We had maybe four to seven days right after chemo to pump his body up, and this helped exponentially increase his white blood cell counts," said Neil. "Some of the doctors said he was nothing short of a miracle. To go from 0 to 5 overnight is simply unheard of. I think a lot of what we did for him in the days after receiving chemo helped his body recover better and not need the transfusion."
Between treatments, Christopher received a hormone to help stimulate his healthy red blood cells to recover faster, too.
"In this situation, we were fortunate that the therapy was short enough and the disease type was such that I could modify the treatment slightly without sacrificing outcomes," said Dr. Bansal.
Getting better together
With his parents and doctors behind him, Christopher went through his chemotherapy without ever needing a blood transfusion. Today, at 8 years old, his dad says he's "completely cured."
"He is perfectly healthy. He's undergone all kinds of follow-ups from the doctors," said Neil. "He never needed blood. As parents, we're becoming a little more health-conscious. We're trying to make a better effort in that way."
While state-of-the-art cancer treatment is part of what saved Christopher's life, so is the bloodless medicine program, which incorporates patients' and families' wishes and uses leading-edge techniques to reduce the need for blood transfusion as much as possible. That support is what Neil remembers most about his son's care.
"We feel very blessed that our son is alive today and will have a future," said Neil. "We thank the doctors for allowing us to share a little bit of ourselves with them and having them respect our beliefs. That's the big point here: they respected us, and that is something we will forever be grateful for."
"Bloodless medicine is really a team effort by the family and the provider," said Dr. Bansal. "We both had the same goal, which was for Christopher to complete chemotherapy and treat this disease, and if I could accommodate their wishes, I was happy to do that as long as it was safe."
To learn more about the Bloodless Medicine & Surgery Program at Baptist Health and Wolfson Children's Hospital, visit baptistjax.com/bloodless. Call 904.202.3460 to set up an appointment or to get more information.