Unwavering commitment
A mother's truth about battling ovarian cancer.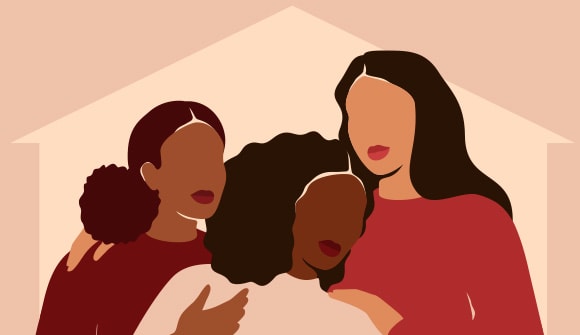 Asha McGee, 48, was working hard to provide for her kids when she was faced with a new challenge that would change their lives.
In January 2021, McGee began experiencing severe abdominal pain. There were mornings she couldn't get out of bed or eat or drink anything because of the agony. McGee believed it was associated with her age, so she brushed it aside and put on a strong face.
After several weeks, McGee could no longer bear the pain, and she called her sister to take her to the emergency room, where the care team ran some tests. She recalled the moment doctors came into her room to tell her she had multiple abdominal masses that resembled ovarian cancer.
"I heard the doctors say 'cancer,' and I blacked out," McGee remembered. "I was unable to process anything else they said to me."
After the initial shock, she was flooded with thoughts of her children. With her youngest daughter in her final year of high school, all McGee wanted was to see her daughter graduate and make sure all her kids were cared for.
Time was crucial. McGee's ovarian cancer had already spread to her spleen and kidney.
True grit
Lauren Hand, MD, a gynecologic oncology surgeon at Baptist MD Anderson Cancer Center, met McGee the night she was admitted into the hospital. Not even 24 hours later, Dr. Hand was sitting on McGee's hospital bed explaining the severity of the diagnosis and what treatment would look like going forward.
"I try to connect with my patients and form a relationship right from the start," said Dr. Hand.
She prioritized getting McGee's treatment started right away, beginning with preoperative chemotherapy to help shrink the tumors, followed by surgery to remove them.
"I wanted to get Asha started on treatment as soon as possible because of how advanced her cancer was," said Dr. Hand.
McGee felt scared leading up to surgery, but she knew her cancer was too far along to wait any longer.
"At that moment, I had to get treatment, and I couldn't play around with that," she said.
McGee underwent complex surgery to remove her cancer, along with her reproductive organs, spleen, left adrenal gland, part of the left kidney and a portion of her stomach. The surgical team led by Dr. Hand included Baptist MD Anderson experts in surgical and urologic oncology.
McGee spent one week in the hospital recovering. After discharge, she received additional chemotherapy to help maximize the effectiveness of her treatment.
'With a smile on her face'
McGee returned to work six weeks later, scheduling her shifts around her chemotherapy treatments because she still needed to provide for her family.
"The fact that she worked throughout her treatment with a smile on her face despite all she was going through was incredibly inspirational," Dr. Hand said.
Although the chemo caused McGee to feel sluggish and lose her appetite, she refused to let cancer take control of her life. She put on a strong face for her children.
"I've been through divorce and raising kids by myself. I wasn't going to let the cancer put me in a position where I wasn't able to care for my kids," said McGee. "I was determined to make sure I had a roof over my head, food in my house and that my kids were provided for."
Honesty is the best policy
When McGee reflects on the care she received from Baptist MD Anderson, she thinks of how honest and straightforward the doctors were, especially Dr. Hand, who didn't waste any time explaining McGee's diagnosis and the reality of her disease.
"I don't know what it was about her, but when she came into that initial visit with me, she sat on the bed was direct from the beginning," said McGee. "I respected how honest she was, and I believe that's why I felt so comfortable with her."
Ghazal Vafabakhsh, PA-C, Dr. Hand's physician assistant, also met McGee during her original visit to the hospital, assisted during McGee's operation, and provided care during follow-up and chemotherapy appointments.
"Asha took what we gave her seriously, and she followed through," said Vafabakhsh. "She did what we asked of her, which was a lot."
Family over everything
Since her diagnosis, McGee's family has pitched in to help, which has been crucial throughout the grueling treatment process. They've grown closer than they've ever been.
"Everyone stepped up, everyone jumped in headfirst, and there was no hesitation about it," said McGee. "I told my kids, 'You're all that I got, and I'm all that you got.'"
During a recent appointment, McGee found out her cancer had returned. Though disappointed, she knew she not only had the support of her family, but of the entire Baptist MD Anderson team.
"If there's anyone who has the strength to keep fighting, it will be Asha," said Dr. Hand.
"Even though my cancer has come back, it just means the fight continues on," McGee said.
---
Baptist MD Anderson Cancer Center has a full team dedicated to supporting patients throughout their cancer journeys, providing medical care, and support services. To learn more, visit baptistmdanderson.com.