'You're a fool not to do it'
He replaced cigarettes with lung cancer screening; urges smokers and ex-smokers to do the same.
Carolyn Tillo Published: March 13, 2020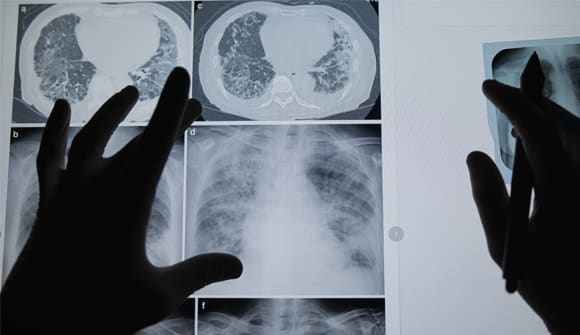 When Jack Shuss was 20, he was deployed to Vietnam for nine months, arriving there just after New Year's Day in 1966. He traveled from village to village as a combat engineer, helping to fix roads, build bridges and purify water.
It was a stressful, scary time and he and his buddies would have a beer or a cigarette to calm their nerves.
After Shuss got back from Vietnam, the smoking habit stuck. For him, and so many others of his generation, cigarettes were a way to relax and forget the things they had seen during the war.
Shuss, who is now 74, was also exposed to Agent Orange while he was in Vietnam and has experienced his share of health struggles. He has type 2 diabetes, high cholesterol and had quadruple-bypass heart surgery.
In 2016, Donald Levine, MD, his primary care doctor, knew Shuss was a smoker and recommended he get a lung cancer screening at Baptist Health. He told Shuss it was covered by insurance at 100%.
He continued to get lung cancer screenings annually. In 2018, his scan showed a new large nodule in his lung.
Shuss was referred to Bill Putnam, MD, FACS, thoracic surgeon and medical director of Baptist MD Anderson Cancer Center, who felt the large nodule looked like it might be cancer. Dr. Putnam gave Shuss two options: 1) biopsy the nodule and discuss next steps or 2) proceed with surgery to remove it. But first, Shuss had to quit smoking.
Shuss successfully quit and decided on surgery. Dr. Putnam removed the lung cancer with a minimally invasive approach that involved a small incision and reduced pain with the Enhanced Recovery After Surgery program. He recovered quickly. Dr. Putnam then recommended chemotherapy because of other findings on the pathology.
After four rounds of chemotherapy with Anterpreet Neki, MD, a hematologist/oncologist with Baptist MD Anderson, Shuss's CT scan showed no signs of cancer. He now goes to see Dr. Putnam for regular check-ups every six months and has become an advocate for lung cancer screenings among his family and friends.
"I tell people to go get a screening—it's not going to cost you anything, and it takes less than an hour of your time," Shuss said. "You're a fool not to do it."
To see if a lung cancer screening is right for you, talk with your primary care physician or go to baptistjax.com/lungscreening.
Close X