Comforters-in-chief
How you can help Child Life specialists help kids through play.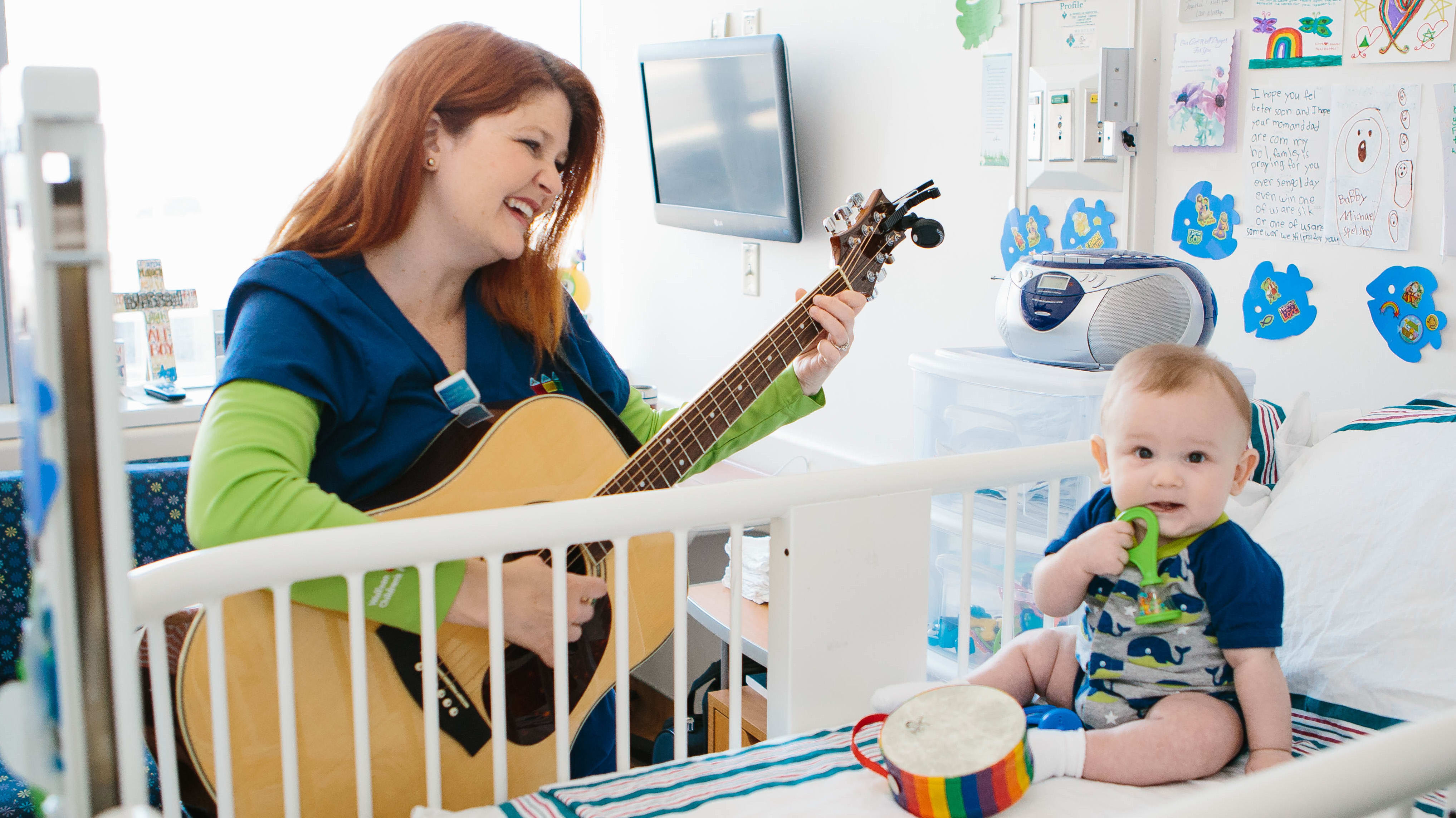 Madison White walks into a patient's room at Wolfson Children's Hospital, kneels down next to the bed, and with a smile on her face, asks, "How are you doing?"
The patient, a 10-year-old girl who is having a tonsillectomy in a few hours, responds with a quiet "Good" and a half-smile, while looking down at her fidgeting fingers.
White is one of 11 Child Life specialists at Wolfson Children's Hospital who use play, education, and support to help kids cope with the anxiety and fear of being in the hospital. The scary machines, the pokey needles, all the strangers coming in and out of the room—it can be overwhelming for even the toughest of kids.
"We are trained to read their body language, their response to our questions, to notice if their demeanor changes—all of that helps us know if this kiddo is really OK, or if they might have some anxiety about what is going on," White said.
For her tonsillectomy patient, White pulls out her teaching tools: a breathing mask and some electrode stickers, along with other items the child might see during her procedure. Her tablet holds pictures of the operating room and she dives right in, explaining to her patient what she is about to experience in an age-appropriate way.
"We don't say things like 'This is the worst part' or 'This won't hurt' because that might not be true," White said. "We don't want to scare our patients, but we don't want to lie to them, either. We want them to trust us, and if we say that they won't feel any pain and they do, then that trust is completely broken."
The young girl asks a few questions about the strange machines she sees in the pictures and puts the breathing mask over her face to see how it feels. She asks White if she will walk back to the operating room with her. "I tell you what," White answered, "let's walk back together and watch some shows on my tablet. Would you like that?" The patient responds with a smile and an enthusiastic head nod.
White leaves her patient to grab a few goodies from her stash of toys—a deck of cards, a coloring book and some markers. "Play is a wonderful tool," said White. "It gives them something to do and takes their mind off what's going on or what is about to happen."
White returns, play tools in hand, to her patient's room, where the once fidgeting fingers are now calm, the quiet girl now laughing.
Music therapy
Julie Avirett is a music therapist at Wolfson Children's. Through consultations and referrals, Avirett serves patients throughout the entire hospital. On this day, she's making a second visit to a 4-year-old boy who is recovering from major leg surgery.
"He had a significant decrease in his pain scale after the first session," said Avirett, while tuning her guitar. "He responded really well."
"How do you feel today?" she asks her patient. "I feel happy. But my leg is sad," comes the reply. So Avirett starts playing the boy's favorite song, "Twinkle Twinkle Little Star." After a few choruses, he starts to smile and sing along, rocking back and forth with the tune.
"There are several ways music can help with pain management," Avirett said. "It encourages breath control and it's an active engagement to distract them if they are younger, or you can use relaxation and imagery if they are older."
"We are so grateful for this program," smiles the patient's mother. "He loves music, and when I saw Julie walking down the hall with her guitar, I knew we had to have a visit."
Child Life specialists and music therapists are invaluable members of a patient's care team, however long their hospital stay may be.
Calming agents
Child Life specialist Christine Licsko works on the hematology/oncology floor in the Weaver Tower. Her specialized training helps her think on her feet and remain calm.
"You get to know your patients and their cues," she said. "Every patient is different. What might comfort one child might not work for another. A patient might curl into a ball while I'm explaining a procedure and that's a sign that I need to back off and not talk about it anymore."
When in doubt, Child Life specialists can always turn to their leader, Pat Kirkland, for guidance. As the manager of Family Support Services, Kirkland meets regularly with the Child Life team to provide crucial support.
"We check in with her to talk about a difficult case or to make sure we're all practicing self-care techniques," Licsko said.
From tonsillectomies to bone marrow transplants, Child Life specialists are there to guide patients and their families through a potentially scary time.
Said Licsko: "I'm here to make their stay go as smoothly as possible."
How can you help? Child Life specialists rely on donations to ensure they have everything they need for their patients. Shop our Amazon registry for the most needed toys, and they'll ship right to the hospital.