Good catch in the X-ray room spots rare forearm injury
Young gymnast's improper dismount from trampoline led to fracture often overlooked by non-pediatric specialists.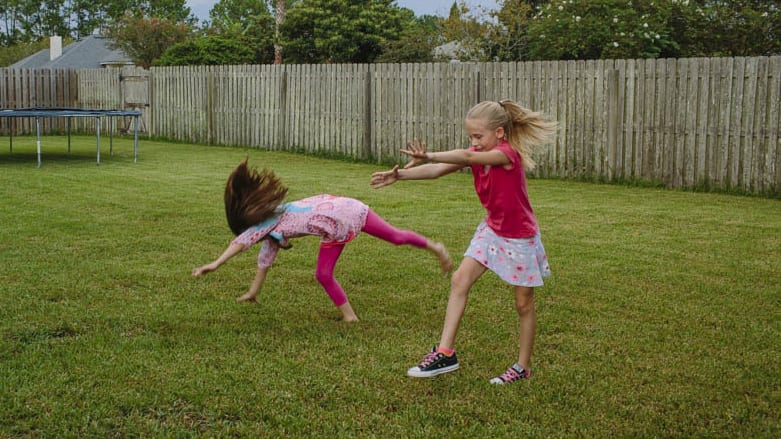 When Allyson Williams purchased a backyard trampoline for her twin daughters, Kate and Abby, she established one ground rule: always dismount from a seated position, never jump.
But kids will be kids.
Kate, a budding gymnast, broke her left forearm after performing an improper dismount. Broken forearms are one of the most common trampoline-related injuries seen in emergency rooms, but Kate's injury was hardly ordinary.
She had a Monteggia fracture-dislocation, where the forearm is not only fractured but also dislocated from the elbow.
"It's famous for being one of the most commonly misdiagnosed orthopedic injuries when not treated by pediatric specialists," said Kevin Neal, MD, a pediatric orthopedic surgeon with Nemours Children's Specialty Care. "If the diagnosis is delayed, surgeries to treat the injury are more difficult, have higher rates of complications, and have lower rates of success."
Monteggia fracture-dislocations are rare, accounting for fewer than 5 percent of all forearm fractures. They occur mostly in children between the ages of 4 and 10, and are often the result of a fall onto an outstretched hand.
"When she jumped off the trampoline, she lost her balance and put her hand down to catch herself," recalled Kate's mom. "We didn't hear a pop, so we iced it. But we still thought there might be something more. So, we took Kate to Baptist/Wolfson Children's Emergency at Town Center for X-rays."
Monteggia fracture-dislocation, named for the Italian surgeon who first identified it in 1814, can easily be missed on X-rays, and it takes the trained eye of a pediatric radiologic technologist to spot it in children.
"I could see the break in the bone but I had no idea about the dislocation of the arm," added Kate's mom. "After they set it at the Town Center ER, they transferred her to the children's hospital downtown, where we were told she would need orthopedic surgery the next day."
Doctors reset and surgically repaired the bone, then put on a cast, which Kate immediately decorated with pink glitter and wore for six weeks.
"After the cast came off, she was cleared to return to all her activities, including the monkey bars," said Williams, a working mother of three. "She's naturally athletic."