Lucy Rose up to fight cancer
Preschooler diagnosed with an aggressive tumor during the pandemic inspires everyone.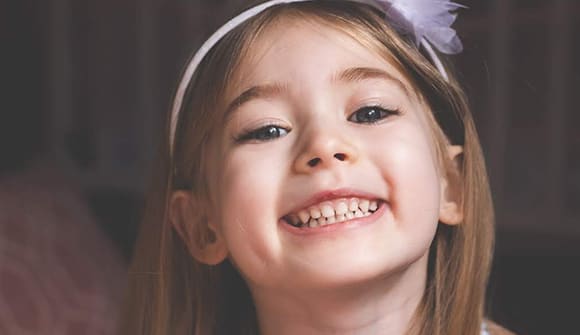 Four-year-old, happy-go-lucky Lucy Rose Donmoyer likes Swedish Fish candy and pull-and-peel cherry TWIZZLERS. She loves the Muppet fairy Abby Cadabby on "Sesame Street" and the movies "Frozen" and "Trolls." She loves her baby sister Charlotte, mom Jessica and dad Jordan, and her grandparents in Florida.
Back in February, before the COVID-19 pandemic hit Northeast Florida, Jessica noticed Lucy wasn't her usual bubbly self and seemed to be constantly fighting a fever. She took her little girl to her pediatrician and to the ER several times. Through exams and multiple rounds of bloodwork, doctors ruled out the "usual suspects": flu, pneumonia or a urinary tract infection. When bloodwork revealed Lucy was anemic for a second time, her doctor referred her for a hematology consult at Nemours Children's Specialty Care, Jacksonville.
"Between the bloodwork and follow-up care with her pediatrician, Lucy began complaining that her back and hip were hurting," Jessica remembered. "We had a virtual appointment with Dr. [Cynthia] Gauger [a pediatric hematologist/oncologist with Nemours and Wolfson Children's Hospital] on April 13. Dr. Gauger said she wanted us to come in so they could look at her and 'put hands on her.'"
That Thursday, April 16, Jessica brought Lucy into Nemours for an appointment with pediatric hematologist/oncologist Manisha Bansal, MD. "Dr. Gauger's concern from the labwork was that it wasn't straightforward anemia," said Dr. Bansal. "When I saw Lucy, she looked like she wasn't well and she had a distended belly. On physical examination, I could feel a large mass in her abdomen."
Dr. Bansal ordered an ultrasound and a chest X-ray to be performed the next day. "The pediatric radiologist at Nemours called me right away," she said. "I was already pretty sure it was an aggressive (high-risk) neuroblastoma."
"I was by myself with Lucy, watching 'Frozen' in the ultrasound room when Dr. Bansal called me," remembered Jessica. "She said we could go home because they knew what was going on. She explained that Lucy had a large mass behind her stomach and asked when she could talk to my husband and me together once we were home. Lucy asked why I was crying and I said, 'I am just emotional.'"
Dr. Bansal called Jordan and Jessica within an hour. "She told us what she thought the mass was and explained the process of doing tests to figure out what kind of tumor it was and how big it was. She told us Lucy would be admitted on Monday. That weekend was when I started telling my family and close friends what was happening."
Dr. Bansal admitted Lucy to Wolfson Children's Hospital on April 20, ordered a CT scan on Tuesday, and a biopsy of the mass on Wednesday to confirm the diagnosis of high-risk neuroblastoma.
A heart and a rose for Lucy Rose
The day Lucy was admitted, her grandfather Scott Jernigan and his girlfriend Tangela Andrews drove from Tallahassee to be nearer Jessica and Lucy.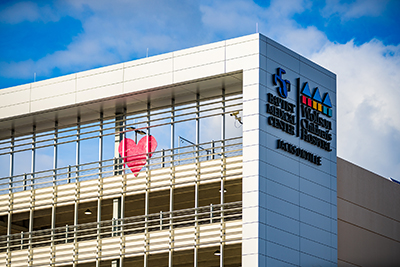 Due to restricted COVID-19 visitation at Wolfson Children's, only Jessica was able to be with Lucy. To make sure her father knew which room they were in, Jessica made a heart sign in the window. The next day, Jernigan went to the store to buy supplies to make a giant heart sign for the top of the parking garage to let Jessica and Lucy know he was there for them.
Jernigan said "I couldn't stand my daughter and granddaughter doing this alone. I wanted to be as close to them as I could and that was the closest I could get. I wanted them to know we love them and are thinking of them. Lucy came to the window every morning to look at the sign and know Tangela and I were there. It meant a lot to my daughter, too."
Aggressive treatment for an aggressive tumor
On April 24, Lucy began his first round of high-intensity chemotherapy.
Howard Katzenstein, MD, chief of hematology/oncology at Wolfson Children's and Nemours, was Lucy's primary physician during her stay. He is published on the diagnosis and treatment of high-risk neuroblastoma.
Jessica remembered: "Dr. K said Lucy's neuroblastoma is one of the largest he'd ever seen but he said the treatment for high-risk neuroblastoma is the same, small or large, whether it spreads through the body or not: five cycles of high-intensity chemo, possibly surgery to remove it, a stem-cell transplant, radiation and immunotherapy. It's a 1-1/2 year process. But Lucy's a trooper and handled her first two waves of chemo treatment well."
While it's too early to tell how Lucy's cancer will respond to treatment, she is preparing for her third cycle of chemotherapy, along with a stem cell transplant this summer.
Jessica, who was raised since she was a baby by single father Jernigan in Tallahassee, said the hardships she has faced in her life have helped her stay strong for Lucy. "Everything I've gone through in my life has prepared me for this, to be Lucy's mom and to be strong. It has been hard being in the hospital with Lucy without my husband for 10 days at a time due to COVID-19 but I have just buckled up. It doesn't matter what's happening, we're going to do whatever we have to do."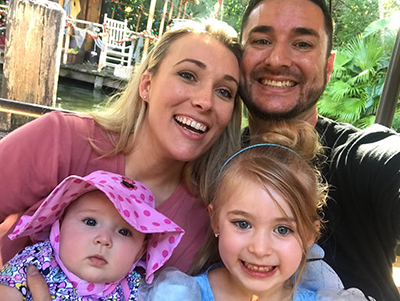 Jessica said she and Jordan are so grateful for the tremendous support they've received from the caregivers at Nemours and at Wolfson Children's. "Friends and family from Tallahassee and Jacksonville, our neighbors, Lucy's preschool teachers, the nurses and Child Life specialist on 4 Weaver at Wolfson, and the caregivers from Nemours have helped us get through this," she said.
In fact, the Donmoyers' neighbors, along with JSO officers, Jacksonville Fire Rescue, teachers, classmates and others held a parade in front of their East Arlington neighborhood after Lucy was discharged from Wolfson the first time.
"It was amazing!" she recalled.
Jessica said the support has meant the world to Lucy Rose. "My daughter has been amazingly strong through this whole thing," said Jessica.
Dr. Bansal agrees. "Lucy's handling treatment extremely well," she said. "It limits her physically but she is able to do most of what she wants to do. She has a really great family support system."
She added, "Because high-risk neuroblastoma is aggressive and difficult to treat, we're going to continue to max out each of our treatment modalities to give her the best chance to survive."
When a child is diagnosed with cancer, moms and dads want answers, and the best care available. At Wolfson Children's Hospital's Childhood Cancer Center, loved ones get both. Our cancer experts are here to help parents understand the condition, how it affects their child and how it can be treated.