Securing your precious cargo
Car seat safety for each stage.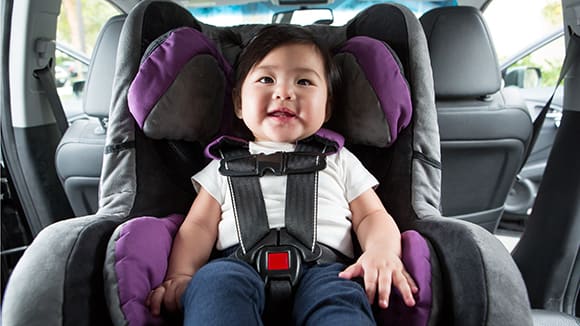 You might not realize it, but your car can be one of the most dangerous places for your child. According to Safe Kids Worldwide, more than 2,700 children in the United States died in motor vehicle accidents in 2019 alone and 416,400 were involved in nonfatal crashes.
The numbers might be troubling, but you're not helpless to prevent the same fate from befalling your child. Correctly securing your child – not just in the back seat, but in the correct type of car seat – ensures he or she will be safer during your next car ride.
Finding the right fit
Most parents know their kids should ride in the back seat. The most important thing is to make sure your child is following the height and weight guidelines recommended for his or her individual child safety seat, as these can vary from product to product.
The age recommendations below serve as a general guide, with some overlap to accommodate the variation among car seats and children:
Birth to ages 2-4 
Your child should ride in a rear-facing position. This is the safest position for your new little one through toddlerhood. It's recommended that your child stay in a rear-facing car seat until he or she has outgrown the seat's maximum height and weight limits for that position (which may be up to 50 pounds!). This information can be found on the stickers on the sides of the car seat.
Ages 2-7 
Once your child has outgrown the rear-facing seat, he or she will transition into a forward-facing position with a harness. Caregivers should keep their child in this seat until he or she has outgrown its height and weight limits. It's safest to keep your child in the five-point harness as long as possible.
Ages 7-12
After your child outgrows a forward-facing car seat, it's time for a belt-positioning booster seat. Booster seats do exactly what the name implies: they boost your child up so the back seat's seat belt can fit properly. Note that the lap belt should fit snugly across the upper thighs while the shoulder belt should lie snugly across the shoulder and chest.
Eventually, your child will outgrow the booster seat, as well. However, it's important they continue to ride in the back seat with the standard seat belt until age 13, when they may move to the front seat (still wearing a seat belt).
More than clicking a few buckles
Now, you've done your research and gotten the perfect seat for your child's age, weight and height. It's comfortable, the harnesses are snug and secure, and you're confident your little one will be safe the next time you're on the road.
Well, unfortunately, you may have installed it incorrectly. You're not alone, though.
"There are so many different car seats and vehicles, so installation can be very challenging. If car seats aren't installed correctly, they may not work the way we want them to in a crash," said Jessica Winberry, coordinator of Safe Kids Northeast Florida, led by THE PLAYERS Center for Child Health at Wolfson Children's Hospital. "It's important to make sure the car seat is installed in the vehicle correctly and the child is harnessed into the seat properly."
Winberry and the rest of the team at Safe Kids Northeast Florida operate regular car seat inspection stations where parents can make an appointment to learn how to properly use and install their car seats with the help of a certified child safety technician.
A typical visit to the inspection station starts with ensuring the car seat is appropriate for the child's age, size and weight. If the seat is appropriate and not expired – believe it or not, car seats have an expiration date as the plastic can get brittle and break – then caregivers learn how to make sure it's installed correctly!
The car seat technician guides the parent through the correct installation process. Each technician has been certified through Safe Kids' four-day course, so they're aware of car seat manufacturing requirements and can share best practices with parents.
After the inspection, parents can drive away knowing their children are safer in the car than when they arrived.
"Parents and caregivers can ask questions to ensure they're making the best decisions for their child's safety," Winberry said. "We just want your child to be as safe as possible at all times on the road."
---
Get your child's car seat checked
Visit Safe Kids online to learn more about child passenger safety or to find a car seat inspection station near you. Appointments for car seat inspections can be made by calling 904.202.4302.