Back in rhythm
Seizure leads to 10-year-old's rare heart condition diagnosis.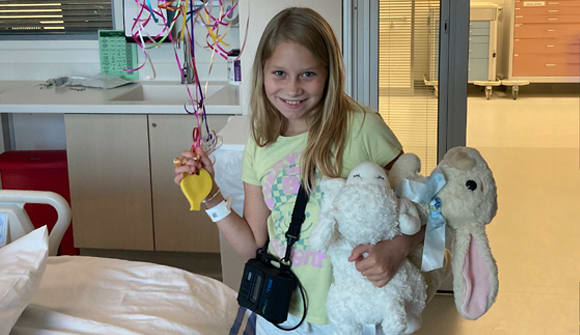 During the first day of marine science summer camp in St. Augustine, Bryn Jenkins and her campmates learned how to perform CPR, recognize if someone is in distress, and what to do if you see someone having a seizure. It was a lesson that possibly saved Bryn's life when she fainted and had a seizure while swimming in the pool later that day.
"I only remember a few seconds before I fainted in the water. Everything started going black," the 10-year-old St. Johns County resident said.
Bryn's campmate, Mallori, put those safety lessons into practice when she noticed something wasn't right with her friend. Mallori quickly pulled Bryn to the surface, where she regained consciousness. After being notified of what had happened, Bryn's mom, Nicole Jenkins, told first responders to take Bryn to Wolfson Children's Emergency Center at Baptist Medical Center South. Nicole knew the importance of having kids treated by pediatric-specific emergency physicians after spending years with Baptist Health as a content creator for the Wolfson Children's Hospital website.
A rare diagnosis
Brian Gilligan, MD, medical director of Pediatric Emergency Medicine at Wolfson Children's Emergency Center at Baptist South, told Bryn's parents that she likely had long QT syndrome, a heart rhythm disorder that can cause fast, chaotic heartbeats. The condition causes the heart's electrical system to take longer than usual to recharge between beats and can lead to fainting and seizures.
"Her heart rate was all over the place. Even with her sitting still, it would go down to 35 beats per minute and then up to 120. It's crazy to know her heart has probably been doing that her whole life without us knowing," Nicole said.
That evening, Bryn was flown to Wolfson Children's Hospital by Kids Kare helicopter and admitted to the Cardiovascular Intensive Care Unit (CVICU) in the Borowy Family Children's Critical Care Tower. An electrocardiogram (EKG) and genetic testing confirmed the diagnosis of long QT syndrome.
Getting back into rhythm
Bryn remained in the CVICU for observation for 10 days before undergoing a procedure to receive an implantable cardioverter-defibrillator, a life-saving device that acts as a pacemaker and a defibrillator to fix fast, abnormal heart rhythm.
Wolfson Children's C. Herman and Mary Virginia Terry Heart Institute is the only program in Jacksonville that provides a full range of cardiac services for adults and children with congenital (present at birth) heart disorders, like Bryn. This includes outpatient evaluation of murmurs, detection of complex heart defects before birth, imaging and non-surgical procedures to diagnose and treat heart conditions.
"Pediatric electrophysiologists and interventional cardiologists with the Terry Heart Institute perform procedures on children with significant heart conditions and adults who need surgical correction of defects they were born with. Following cardiac procedures, these patients are cared for in the CVICU, under the supervision of pediatric cardiac intensive care physicians specially trained in managing congenital heart defects," said Rajesh Shenoy, MD, a fetal and pediatric cardiologist and medical director of the Wolfson Children's Terry Heart Institute. "The care that Bryn received exemplifies the advanced care the Jacksonville community can expect from their children's hospital."
Feeling like herself
Along with starting lifelong medication to help keep her heart rate stable, Bryn had to wear an arm sling for several weeks after surgery to reduce movement around her incision. While activities like sports and physical education classes are on hold, Bryn successfully started her first year of middle school this fall and feels like herself again.
"I feel totally fine and back to normal," she said.
Bryn will continue yearly visits with the electrophysiology team at the Terry Heart Institute to monitor her progress. She and her family remain grateful for the treatment and care she received so close to home at Wolfson Children's.
---
Wolfson Children's C. Herman and Mary Virginia Terry Heart Institute treats a wide range of heart rhythm disorders and other cardiac conditions. To learn more, call 904.202.8550.