Unstoppable in her skin
Girl still sparkles after severe burns.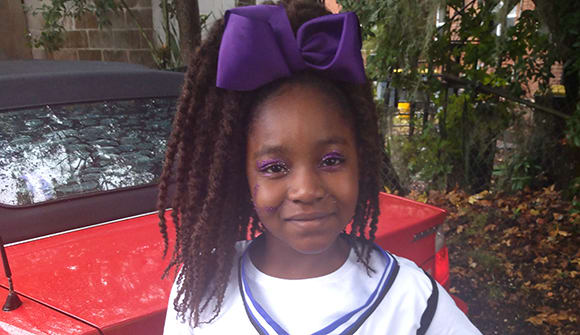 Not every little girl loves pink, glitter and wearing skirts, but Lauren Brown sure does. The 8-year-old second grader from Jacksonville is as girly as it gets, her parents, Roderica and Melvin, said. And not even her burn scars, nor what other kids have to say about them, can stop her from making a fashion statement.
An unimaginable accident
In the summer of 2020, Roderica was promoted at work and planned to relocate the family, which included Lauren and her older sister, to San Diego, California. That August, she and Melvin flew there to look for a new home while Lauren and her sister stayed home with their grandmother.
"Her grandma had cooked a big Sunday dinner, and Lauren wanted hot sauce for her pork chop, so she ran into the kitchen," said Roderica.
There, she collided with her grandmother, and somehow in the shuffle, a pan of hot grease spilled onto Lauren's body. Her grandmother called 911 immediately and the little girl was rushed to Wolfson Children's Hospital, home to the region's only state-designated Pediatric Trauma Center. Meanwhile, her parents were scrambling to the airport to get home to their daughter.
"We were panicking because this was our first time ever leaving our kids, and as soon as we leave, our kid is hurt," Roderica recalled. "It was very scary, and we were very upset. We were just trying to understand and get home as soon as possible."
The start of many surgeries
When Lauren arrived at Wolfson Children's, she was whisked straight into the operating room for a procedure called debridement, which is the removal of tissue too damaged to heal from her burns. She spent two weeks in the hospital for treatment of second- and third-degree burns that covered nearly two-thirds of her body, including her chest, abdomen and upper thighs, with splatter burns reaching out to her chin, arms and feet.
"Grease burns are challenging in that the tissue injury evolves over time, requiring multiple visits to the operating room to debride her burns before Lauren was ready for reconstruction," said Sarah Fernandez, MD, a pediatric plastic surgeon at Wolfson Children's and Nemours Children's Health, Jacksonville. "Once she was ready for skin grafting, we faced additional challenges. Since Lauren sustained burns to a large portion of her body, she had relatively little unburned skin to use for grafts. We had to perform skin grafts in multiple stages."
By September, Lauren was able to say goodbye to the hospital and receive follow-up care with the plastic surgery and burn teams at Nemours Children's Health, the Snyder Family Burn and Wound Care Center at Wolfson Children's, and Wolfson Children's Rehabilitation.
"Lauren has a long recovery journey ahead of her," said Dr. Fernandez. "She needs ongoing scar management, and physical and occupational therapies to make sure she continues to recover well. One of the most incredible aspects of burn care is being amazed each time at the strength and resilience of young patients like Lauren, and their families, who face these daunting journeys with so much courage."
Restoring Lauren's self-esteem
Lauren's burns seemed to be healing remarkably fast between her prescribed treatments and her mother's shea butter and coconut oil additions. But the recovery was only skin-deep.
"We went through the stages of her not wanting to show her scars and not wanting anyone to look at her," Roderica said. "We'd go in her room, just me and her sitting crisscross applesauce on the floor, and I'd let her get everything out and cry. Kids at school were picking on her and bullying her and asking her questions, and every day she'd come home and we'd talk about it. We had to talk about loving yourself and feeling strong."
"But then I was pretty strong and bold because I wore a skirt and some shorts," said Lauren, rightfully proud of herself for ditching the pants she hated for her favorite skirts and letting the world see her skin.
"She still gets bullied, but she loves herself. She shows her legs and she's very confident about it. She takes it and she keeps going," her mom said.
Better care for burns
Each year, nearly 70,000 children across the U.S. are treated in emergency rooms for burn-related injuries. In the last two years alone, more than 2,500 children have been treated in Wolfson Children's Emergency Centers for burns, with about 20% severe enough to be admitted to the hospital.
In February 2022, Wolfson Children's will open the doors to the Borowy Family Children's Critical Care Tower, where providers can care for even more children when they need it most. The Pediatric Intensive Care Unit (PICU) in the tower will include the two-bed Snyder Family Burn and Wound inpatient unit, dedicated to burn patients who, like Lauren, deserve specialty care and a place to heal that's just for them.
"This program is a complement to Wolfson Children's Pediatric Trauma Center and will ensure children facing these challenging injuries will be treated with the highest level of care, close to home," said Ramona Criss, RN, Snyder Family Burn and Wound Program coordinator. "The new Burn and Wound inpatient unit is part of our continuing effort to meet strict standards of care set by the American Burn Association."
---
Wolfson Children's Hospital is staffed 24/7 by pediatric trauma specialists to care for kids when they're injured or burned. If your child needs to visit the emergency room, Wolfson Children's Emergency Centers are located around Northeast Florida so you can find children's health experts close by when you need them. For follow-up burn care, call 904.697.3600 or schedule an appointment online.