What's new in NICU?
How newborn intensive care has advanced in the last 50 years.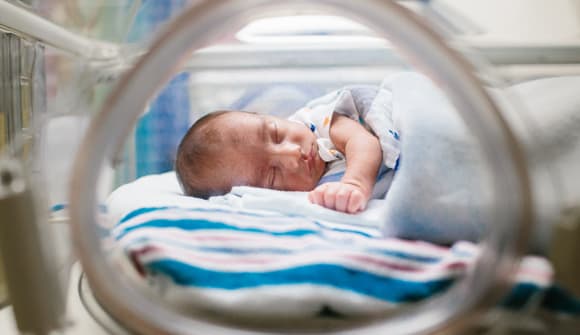 New research about premature babies might scare parents at first glance, but experts in neonatal care say there's no reason to panic. A study of 6 million people in Europe found those born early have slightly lower life expectancies than those born at full term. The good news? Those folks were born in the 1960s, '70s and '80s, and neonatal critical care has come a long way since then. So far, in fact, that researchers on the study aren't sure their findings apply to babies born more recently.
Wolfson Children's Hospital of Jacksonville has treated infants since its beginnings, and opened its dedicated Neonatal Intensive Care Unit (NICU) in 1971, which means the specialists and nurses there have been caring for premature and critically ill babies and families for 50 years. Patients and providers alike have witnessed all the medical advances in newborn care in that time.
"Things have changed dramatically. Fifty years ago, NICUs as we know them today did not exist," said Mark Hudak, MD, a board-certified neonatologist and chief of Neonatology at Wolfson Children's Hospital. He has treated patients at Wolfson Children's for 25 years.
Then and now
Dr. Hudak agrees that babies born early or with health challenges used to have worse outcomes. The research and technology to support those newborns simply didn't exist in the decades covered by the study. For example, in 1963, President John F. Kennedy's son was born at 34 weeks and passed away due to premature lung disease, a condition that is easily treatable today. Dr. Hudak says in the 1970s, 90% to 95% of babies born weighing less than 2 pounds, 2 ounces, didn't survive.
"Fifty years ago, babies who were born at 32 weeks, if they survived, had high rates of cerebral palsy that may have been caused by some combination of lack of oxygen, low blood pressure and respiratory disease. We also discovered that using oxygen to treat premature lung disease resulted in blindness later in life," he said. "Now, babies born as early as 22 weeks gestation can survive and go on to live normal lives. There are numerous reasons why. Mothers can receive treatments to mature the fetus in the womb if we know a premature birth is likely. We can treat respiratory disease using surfactant, which helps the lungs mature, and ventilators that minimize lung damage. The long-term outcomes of babies born at 30 to 32 weeks are excellent and the medical community is now working to improve outcomes of 23-to-25-week survivors."
Helping so many babies survive and lead healthier lives is possible thanks to all the medical research and advances made over the last five decades.
"Over the years, we've incorporated advances in fetal monitoring, standardized steroid therapy, improved the respiratory and nutritional management of infants, and even developed better ways to care for a premature infant's delicate skin. Surgeons can now routinely repair many problems that were usually fatal 50 years ago. We are now focusing on the benefits of including parents as caregivers in the NICU, both for the newborn and the parents. We are about to start a project aimed at helping parents to hold their babies skin-to-skin earlier and more frequently than is currently possible."
In his time at Wolfson Children's, Dr. Hudak has led the NICU team to use evidence-based treatments and participate in research whenever possible.
"We've continuously done research studies over the past 25 years. We select these studies very carefully: I always ask whether I would consent for my infant to be in the study. These studies must have the potential to answer questions so babies everywhere might benefit," he said.
Wolfson Children's also began transporting sick newborns to its NICU from other hospitals to provide higher-level care in the 1970s. That service has evolved into Kids Kare, an entire fleet of mobile ICU ambulances, helicopters and a fixed-wing plane equipped with lifesaving equipment small enough to support its tiniest passengers.
Strides in early detection
In the 1960s, hospitals began screening newborns for phenylketonuria, or PKU. Today, newborns in the state of Florida are screened for 57 conditions, allowing providers to begin treatment early and achieve better outcomes. That number has grown as successful treatments have been found for more conditions.
"To be included in newborn screenings, a disorder needs to have a treatment," said Pamela L. Trapane, MD, chief of the Division of Pediatric Genetics at UF Health Jacksonville and board-certified pediatric geneticist treating patients at Wolfson Children's Hospital. "This is why lysosomal storage diseases and spinal muscular atrophy have been recent additions, as we have in the past five to 10 years developed appropriate treatments for these conditions."
Dr. Trapane explained that beginning treatment for the conditions on the screening panel, which include sickle cell anemia, congenital heart disease, and spinal muscular atrophy, as soon as possible can prevent a decline in health, or even death for the affected babies.
"Possible treatments include special diets or formulas, enzyme replacement therapy, hormone therapy, bone marrow transplant, specialized medications, genetic therapy, surgical intervention, and other supportive services," she said.
Technology has not only advanced to better detect and treat illness after birth, but also prenatally. Knowing a baby may be born in need of critical care helps parents-to-be connect with specialists before birth to develop a treatment plan.
"Improved ultrasound imaging of fetuses has led to the prenatal identification of congenital anomalies, or defects that will be present at birth. And we screen for all of these conditions today because now we can offer effective treatment," Dr. Hudak explained.
Stepping into the future
Today, Wolfson Children's NICU provides the highest level of care available to the tiniest patients.
"Wolfson Children's offers neonatal cardiovascular surgery and an extracorporeal membrane oxygenation (ECMO) program," said Dr. Hudak. An ECMO machine is used to support a baby's heart and lungs when a health condition prevents one or both from working properly. This keeps babies on the mend until their bodies are ready to take over breathing and circulation on their own.
The hospital is currently constructing the new Borowy Family Children's Critical Care Tower, which will increase the NICU's capacity and provide a private room for each infant and his or her family. Every room is designed with a private bathroom and sleeping area for parents, allowing them to stay around the clock and take part in their little one's care.
"Rooming in is important for families to truly become engaged in their baby's care," said Dr. Hudak. "Our new Neonatal Intensive Care Center will have bigger units over three floors, with remote monitoring and timely notification of changes in a baby's condition to nurses and physicians."
The rooms will also be able to accommodate a postpartum mother, so she can heal following delivery alongside her newborn.
One thing stays the same
Perhaps the only things that haven't changed from 1971 to 2021 (and show no sign of changing) are the people, according to Dr. Hudak.
"What hasn't changed is at the human level. The work people do, the trauma families go through, the ways in which we try to support the families, these are the same. We have an amazing village of caregivers with many different skills who work together to provide excellent care. No matter how sophisticated the technology, the NICU will always be, at its core, about babies and families."
---
If you would like to learn more about the new Borowy Family Children's Critical Care Tower at Wolfson Children's Hospital or contribute to lifesaving care for newborns and children, visit hopestartshere.com.