'Nurse mode'
Baptist Health team members come to the aid of near-drowning victim.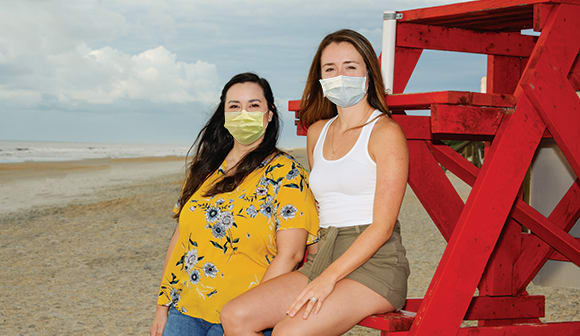 On Memorial Day weekend, a group of friends headed to St. Augustine Beach to spend a relaxing day by the seashore.
One of the couples, who unfortunately had their wedding postponed due to COVID-19, wanted to bring the group together to honor the special day when they would have said their "I dos."
The eight friends set up their beach camp beside two other couples and their children.
Among the four women in the group were Kelsey Genners, BSN, a pediatric nurse at Wolfson Children's Hospital, and Leanna Swilley, BSN, an infusion therapy nurse at Baptist MD Anderson Cancer Center.
Even though they have both worked for Baptist Health since 2017, Genners and Swilley hadn't met before that Saturday. They had just started talking about their respective nursing careers when a few of the men in their group pointed to a woman being pulled from the rough ocean.
The nurses realized that it was one of the women camped next to them on the beach.
A man had just rescued her from a dangerous rip current that had also caught the women's 14-year-old son and 12-year-old friend by surprise, according to a First Coast News report.
After the man carried the unconscious woman to shore, Genners and Swilley instinctively ran to her and immediately began performing cardiopulmonary resuscitation (CPR).
"The victim's lips were blue and there was foam coming out of her mouth," Genners said.
Added Swilley: "After seeing the color of her lips, we both went into 'nurse mode.'"
Swilley started doing chest compressions on the victim, which are essential to keeping oxygen-rich blood cells circulating. The nurses also turned the woman on her side to drain any excess water from her mouth and nose.
Swilley and Genners alternated doing chest compressions until rescue personnel arrived on the scene about five minutes later.
The nurses' hearts continued to race as paramedics transported the woman to a nearby hospital for emergency treatment.
Following the incident, it was difficult for Genners and Swilley and the other members of their group to resume their beach day.
As they stared at the empty spot of sand where the woman's family had set up their beach camp, all the nurses could think of was whether the victim was going to be OK.
They found out two days later when they connected via Facebook with a friend of the woman they had saved. The friend was trying to identify the man who rescued her friend from the rip current and the nurses who had performed the critical, life-sustaining CPR that day.
The friend of the woman Swilley and Genners helped save told the TV station that "doctors said it was the quality of the CPR that was done in those first few minutes that kept [the victim] from experiencing brain damage."
According to St. Johns County Fire Rescue, while en route to the hospital, the victim began breathing on her own and maintained a steady heartbeat. She spent less than 24 hours in ICU and was home with her family in three days.
"That was amazing to hear and it makes my heart feel really great," said Genners, adding that the experience has made her appreciate the crisis preparedness training she does frequently at Wolfson Children's.
"The mock codes we do once a month reinforce our training and help us to see how quickly we can switch into emergency mode."
Swilley said she was grateful to have a Baptist Health team member by her side that day.
"I feel like nurses in a group of friends always gravitate toward each other," Swilley said. "It was nice we were both there to help and support each other. In any situation like that, you need teamwork."
Talk about right place, right time. Swilley and her fiancée had secured the last spot in a crowded parking lot that day. And the group of eight had just happened to be sitting right next to the victim's family when the emergency situation unfolded before their eyes.
"God works in mysterious ways, and he definitely put us there for a reason," Swilley said.
In recognition of their heroic actions, Genners and Swilley received lifesaving medals and certificates from St. Johns County public safety agencies and Congressional Certificates of Merit from U.S. Rep. Michael Waltz. The nurses were also reunited with the woman whose life they saved and her friend during the heartfelt awards ceremony in early July.
In a statement to the news station, the victim said, "I just want to thank those nurses from the bottom of my heart for reacting so quickly and never giving up on performing CPR. I was told by every team member at the ER and ICU that they saved my life."
If you are interested in working as a nurse or in another field at Baptist Health, please visit baptistjax.com/careers.