Back on the field
High school athlete recovers from ACL injury in time to earn awards and college offers.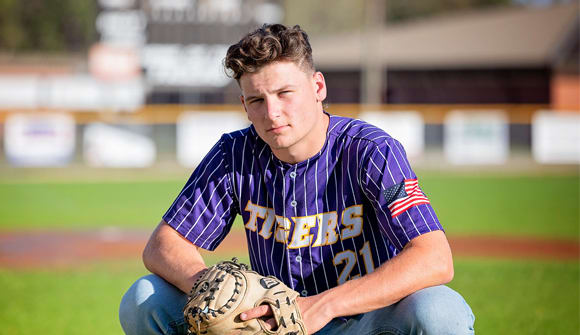 Trevor Holtzendorf has always been an athlete. He started playing T-ball and Pop Warner football when he was 5 years old, and continued both sports all throughout his childhood in Lake Butler, Florida. As a freshman at Union County High School, he took both the football field and the baseball diamond for the Fighting Tigers.
Today, Trevor is 18 and has multiple offers to play both sports in college. But all of it — the bright future, all-state awards, and memories with teammates — was almost ruined by a knee injury. In November 2020, the fall of Trevor's junior year, his mother, Lisa, says he was running downfield after a punt when he felt his right knee give out.
"His trainer put him through a series of tests and didn't seem to think he was badly injured, so he went back into the game in the second half," Lisa remembered. "With the adrenaline rush, sometimes you don't know how badly injured they are until after the game when everything settles down. When he got home, he couldn't walk on it. That's when we knew something was badly wrong with his knee."
'Take him to Wolfson'
The next day, Trevor's athletic trainer recommended he go to the nearest hospital for an exam. After an MRI, the family learned he had a full tear to his right anterior cruciate ligament (ACL), one of four tendons connecting the shin and thigh bone that keeps everything stable and in place. He would need surgery to repair it, but they couldn't schedule the procedure until March. For an elite young athlete hoping to play in college, that spelled disaster.
"Trevor almost had a panic attack because if he had surgery in March, he would miss his senior year of football. I started calling around; my niece is married to a former Jaguars coach, and he gave me the name of a surgeon at Baptist Health they used for their players," said Lisa. "When I called that doctor, he said, 'You need to take him to Wolfson Children's Hospital and see Dr. [Jeremy] Rush.'" Dr. Rush's office at Nemours Children's Health, Jacksonville, got them in the same week, said Lisa, and scheduled Trevor's surgery for January 2021.
"Trevor was incredibly motivated to get back and play his senior year," said Jeremy Rush, MD, board-certified orthopedic sports surgeon at Wolfson Children's Hospital and Nemours Children's Health, Jacksonville.
Getting better before Game 1
The day of Trevor's surgery at Wolfson Children's Hospital came, and the procedure went smoothly.
"During surgery, the torn ACL is replaced or reconstructed using a graft. This graft usually comes from another tendon around the knee, most commonly the quadriceps tendon, hamstring tendon or patellar tendon, which is what I used in Trevor's case," Dr. Rush explained. "Surgery takes between 90 minutes and two hours, depending on whether you have to repair other structures like the meniscus, a piece of shock-absorbing cartilage between the shin and thigh bones. Patients have a brace after surgery and go home the same day."
Within a few days, Trevor began physical therapy to regain the strength and range of motion in his knee. For the rest of the school year and all summer long, he focused on one thing: getting cleared to play in time for his senior year. It paid off.
"Athletes are usually released back to sports around eight to nine months after surgery once they've regained their strength, balance and confidence," Dr. Rush said. "Trevor worked incredibly hard and was able to return after around seven months, after he passed his return-to-play testing."
On the field again
When football season started, Trevor was able to play for a limited time and began working up from there.
"Before he'd play on both sides of the ball, but they only played him as a middle linebacker," Lisa said. "Dr. Rush had cautioned him that when he got back to playing he needed to choose what he wanted to do most because if he got really fatigued, that's when injuries tend to happen. He wore a brace the entire time he played."
Even playing only two or three quarters each game, Trevor led the team in tackles for the third straight year and earned all-area and all-state defensive awards. He was well enough in time to play baseball in the spring and keep his position as catcher (which is notoriously hard on the knees). The team even went to district playoffs. And after graduation, the offers to play both sports in college came in. Trevor accepted a spot on the football team at Ave Maria University.
Lisa credits her son's recovery to Dr. Rush and the team at Wolfson Children's, along with his team trainer and physical therapist.
"It's amazing that we have a place like Wolfson [Children's Hospital] here in Florida," she said. "From the moment we walked in to the moment we went home, everyone was so kind and accommodating. If we needed an answer about something, we could pick up the phone and Dr. Rush or one of his nurses was calling us back with an answer."
On the other hand, Dr. Rush said Trevor himself deserves the credit for making it back to playing condition in time for fall ball.
"Trevor is an exceptional athlete and will likely play two sports at the collegiate level," said Dr. Rush. "His success really is a testament to his work ethic and drive. He had great therapists, a great athletic trainer, and a great family."
---
Whether your child is a serious athlete or a regular kid, ACL injuries and other orthopedic conditions can affect their quality of life. Experts at Wolfson Children's Orthopedics specialize in treating these issues in children of all ages and stages of growth. To make an appointment, call Nemours Children's Health, Jacksonville, at 904.697.3600.