One wrong step
Newspaper publisher is back on the beat after total hip replacement.
Johnny Woodhouse Published: March 07, 2019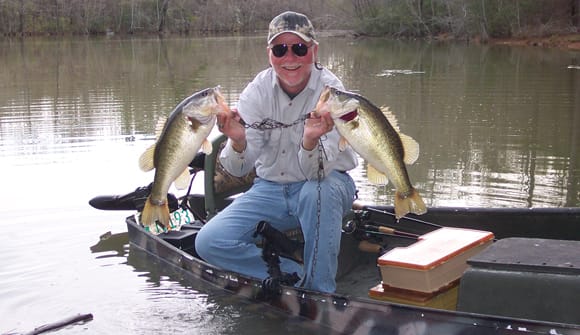 For years, Foy Maloy had no trouble walking eight blocks to his favorite lunch spot in the Fernandina Beach historic district.
Then in the fall of 2017, he stepped off his front porch wrong and his whole lifestyle changed.
"I couldn't walk half a block after that," said Maloy, publisher of The Fernandina Beach News-Leader, the oldest weekly newspaper in Florida.
At first, Maloy, 66, thought he had pinched a nerve in his lower back. It got to where the avid angler couldn't stand on his fishing dock for any length of time due to chronic hip pain.
Maloy tried to grin and bear it for several months, relying on a growing collection of walking canes and ice packs. When the pain in his left hip became insufferable, he sought medical advice from his Baptist Primary Care physician, David Page, MD.
"He gave me a steroid injection and I felt like 19 again for three days," said Maloy, a former barefoot water-skier in his youth. "Then the pain came back with a vengeance."
A follow-up MRI revealed degenerative damage to the highest part of the thigh bone, called the femoral head, along with the hip socket. Foy was referred to an orthopedic surgeon with Jacksonville Orthopedic Institute who recommended total hip replacement surgery.
"They said I was the perfect candidate for it," added Maloy. "I told them to schedule me as soon as possible."
Hip replacement is a surgical procedure where the hip joint is replaced by a prosthetic implant. In a total hip replacement, both the femoral head and the hip joint are replaced.
Maloy underwent total hip replacement surgery on Nov. 7, 2018, at Baptist Medical Center Nassau. He checked into the hospital at 8 am and was home the following day in time for the 5 pm newscasts.
"I was back at the newspaper three weeks later," said Maloy, who has been in the newspaper business for more than 40 years and a publisher in Nassau since 1995.
"The pain was completely gone after surgery and there was no pain at the incision site. I was basically crippled for 14 months, but surgery and rehab have rebuilt my self-confidence."
Two days after returning to work, Maloy penned an editorial about his hip surgery on the paper's opinion page. "The procedure is amazing: An hour of surgery, an 11-centimeter incision, and an overnight stay in the hospital," the editorial said. "We are fortunate to have such incredible medical resources right here in our community."
As for his collection of walking canes, Maloy said they're gathering dust in a bedroom corner.
"And those ice packs are taking up way too much room in the freezer," he said with a chuckle.
The surgeons of Jacksonville Orthopaedic Institute perform joint procedures at the Baptist Center for Joint Replacement.
Close X