Is it autoimmune?
When your body's immune system attacks itself.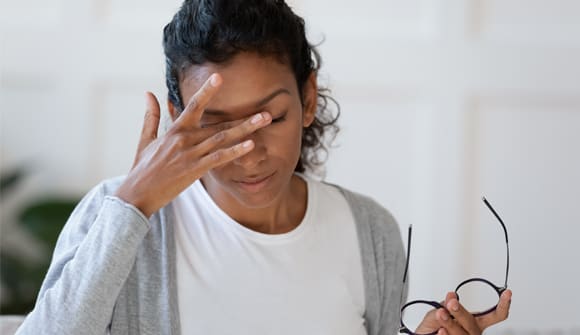 You're constantly tired, your muscles ache or joints feel swollen, and you may notice dry eyes or sores in your mouth. Could it be an autoimmune disease? It's sometimes not clear at first because symptoms can vary and easily go unnoticed.
Body on guard
You know immunity is important during cold and flu season, but what does it mean to have an autoimmune condition?
"In a normal state, the immune system is like a guard or lookout in the body. Its job is to protect against external invaders like bacteria, viruses and fungi, and regulate the internal environment to ensure proper function of body cells," said Archana Goel, MD, a board-certified rheumatologist with Baptist Rheumatology. "When the immune system functioning goes haywire, it leads to an autoimmune disease. The causes can be complex and difficult to pinpoint. It may be triggered by a combination of environment, genetics, infection and stress."
Autoimmune diseases can affect people of any age (even infants), may run in families and are more common in women. There are more than 80 different autoimmune diseases, including:
Type 1 diabetes
Rheumatoid arthritis (RA)
Multiple sclerosis (MS)
Lupus
Addison's disease
Graves' disease
Sjögren's syndrome
Hashimoto's thyroiditis
Celiac disease
Quiet signs
Autoimmune diseases can appear with a variety of symptoms.
"Some of the common signs are joint and muscle pain, swelling, fatigue and weakness. Other less common symptoms include rash, fever, weight loss and dry eyes. They may be specific to an organ system, like chest pain, breathing problems or blood clots," Dr. Goel said. "Though rare, some conditions involve multiple organs in the body."
Follow the clues
A diagnosis usually requires a detailed history, physical examination, routine and specialized blood work and X-rays. Sometimes, MRIs, CT scans or biopsies are needed.
"It can be difficult to diagnose autoimmune conditions. It requires a consultation with a rheumatologist," Dr. Goel said. "Other specialties like allergy/immunology, dermatology, nephrology, pulmonology, cardiology, gastroenterology and orthopedics may be needed."
Is a diagnosis forever?
Your autoimmune disease prognosis depends on many factors.
"It varies based on the person, diagnosis, treatment, lifestyle and genetics," Dr. Goel said.
The good news is that prevention is possible.
"You can avoid many autoimmune diseases through proper health care, which spans many areas of your life," Dr. Goel said. "It begins with simplistic self-care of diet, rest, exercise and emotional health, which we also call stress management. Beyond that, timely medical check-ups with a primary care physician are recommended."
---
If you're concerned that you have an autoimmune condition and your symptoms are mild, your primary care physician can do an evaluation and may refer you to a rheumatologist. If you're experiencing serious symptoms, go to the nearest emergency room.