Study tracks injuries in wheelchair tennis athletes
U.S. national team members experiencing same types of overuse injuries as pro tennis players.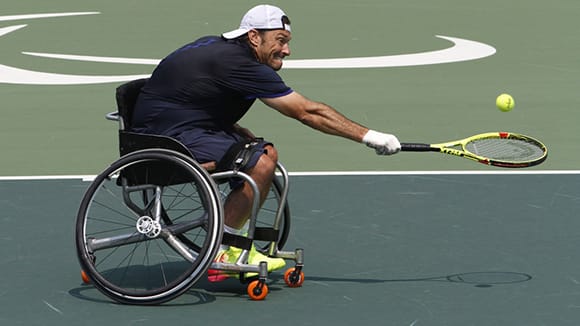 What does professional wheelchair tennis player Gordon Reid and three-time Grand Slam champion Andy Murray have in common? They both hail from Scotland, they both have won gold medals at their respective Olympics, and they are both susceptible to shoulder overuse injuries.
Michael Yorio, MD, a sport medicine specialist with the Jacksonville Orthopaedic Institute (JOI), has been studying injury patterns in elite wheelchair tennis players for a new study approved by the institutional review board of Baptist Health and funded through a research grant from the Department of Player Development of the United States Tennis Association (USTA).
The ongoing study, "Injury Incidence in Elite Wheelchair Tennis," started enrolling participants in March 2016 with a goal of identifying the incidence of injury in this group of high performance athletes. Subjects are enrolled in the study and then followed over a six-month period while they train and then compete in professional tournaments.
"There is a paucity of data for the wheelchair tennis athlete. Injuries can be a big issue for these athletes because it affects not only their ability to compete and earn a living, but it also adversely affects their ability to take care of themselves," said Dr. Yorio, who has served on two USTA committees and is a team physician for the NFL's Jacksonville Jaguars.
"Wheelchair tennis athletes have a different tennis stroke, biomechanically, than able-bodied players. They also have to propel their chairs around the court by using their non-dominant arm."
Joining Yorio in the study are Rafael E. Bahamonde, Ph.D., a professor of kinesiology at Indiana University-Purdue University Indianapolis, and JOI project manager Drew Heideman, a physical therapist and athletic trainer.
Said Dr. Yorio: "My hope is that this will lead to a number of different studies in the future, the eventual creation of evidence-based recommendations for training programs designed for competitive wheelchair tennis players, and, ultimately, the goal of reducing the risk of future injury in this population of elite athletes."