Babyproofing your home
These simple changes can help keep babies safe and parents sane.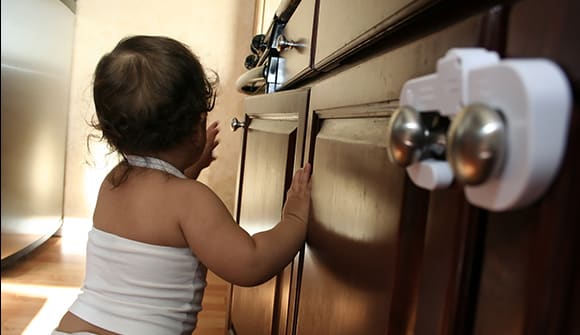 Babyproofing your home may not seem urgent — babies aren't mobile for months after birth, so some parents hope to keep their home the way it is until absolutely necessary. But in reality, any time before your due date is exactly the right time to begin babyproofing.
"It's scary to think that babies younger than 1 year old have a rate of unintentional, injury-related death equal to that of teen drivers!" said Cynthia Dennis, RN, coordinator of Safe Kids Northeast Florida. "But learning a few key safety tips at each stage of your baby's development, such as creating safe sleep environments and actively supervising your child around water, is a great way to ensure that your baby will grow up curious and active, but safe."
As babies develop, they begin learning and exploring rapidly. They may decide to tug on the oven door before you realize they're learning to pull up and stand, which can lead to a serious injury.
As new parents, you deserve the peace of mind offered by a babyproofed home. Here are some tips for each area of the house:
Living room
Cover the sharp corners of coffee tables.
Use childproof baby gates to block off unsafe areas, and install them at the top and bottom of staircases to prevent falls.
Secure unstable or top-heavy furniture to the wall using brackets, braces or wall straps. As your baby learns to pull up and stand, these could become tipping hazards.
Check your TV's stability. Some flat screens are wobbly when their stands are bumped. Mount flat-screen TVs on the wall to prevent them falling off of the stand.
Kitchen
Install an oven lock so your baby can't pull the door open, and buy covers to prevent tinkering with the knobs on gas stoves.
Cook using the back burner of your stove and turn pot handles away from the edge. Place hot foods and liquids away from the edge of counters and tables so your baby or toddler can't pull them down.
Place childproof locking mechanisms on cabinets where you store detergents, laundry pods and cleaning products. While many people store these items under the kitchen sink, move them to a higher place that is not eye-level or within reach for small children.
Keep sharp objects, like kitchen knives, in a childproof cabinet or drawer.
Bedrooms
Install stops on dresser drawers to keep them from being pulled all the way out. If your baby opens multiple drawers, the weight becomes unbalanced and the dresser can tip over.
Take safe sleep precautions, like removing blankets, bumpers and toys from your baby's crib. All your child needs is a firm mattress and fitted sheet.
Place your baby's crib and other furniture away from windows and blinds. When strings or cords are within your baby's reach, they are a strangulation risk.
Bathrooms
Keep a water thermometer near where you bathe your baby and always check the bath temperature every time. The right temperature for baby's bath is no more than 100 degrees Fahrenheit.
Set the thermostat on your water heater to 120 degrees Fahrenheit to prevent scalding as your baby gets older and may try to turn the bath knobs. Cover tub knobs and faucets with silicone covers to prevent burns.
Use nonslip rubber bath mats.
Keep razors, scissors, nail files and sharp objects out of baby's reach.
Make sure all medications are stored out of reach in childproof containers.
Throughout the house
Lock all windows and consider installing window guards to prevent children from opening and falling out of a window.
Use covers on all electrical sockets.
Search your home for any remotes or gadgets containing coin-sized lithium batteries. Secure the battery compartments with tape and keep them out of your baby's sight and reach.
Unplug and store any items that heat up quickly, like irons, hair dryers or hair straighteners. This will prevent baby from pushing buttons and accidentally getting burned.
Get into the habit of scanning the floor for small items that could cause choking if your baby decides to investigate them with his mouth. Developing babies learn by exploring tastes and textures. Even if your baby doesn't always behave this way, once he begins teething you may find he's more likely to put new things into his mouth to help soothe pain.
Don't leave your baby unattended on a bed, changing table or other high surfaces.
If you have a pool, install a fence and gate with an alarm to make sure your baby can't wander near the water unsupervised.
For more information about keeping infants, toddlers and older children safe at home, visit wolfsonchildrens.com/safekids.